Taiwan's coral reefs under attack
ENVIRONMENT As delicate marine ecosystems, Taiwan's coral reefs are vulnerable to damage. The `bleaching' of reefs in the south of the island has prompted scientists and government officials to investigate the cause and find out ways to protect the reefs
Scientists studying coral reefs in Nanwan (南灣), a small bay north of the resort town of Kenting (墾丁), discovered in 1987 that part of the area was suffering from coral "bleaching," a whitening of coral colonies and a potentially lethal trauma.
Such bleaching can be caused by disease or adverse changes in the environment around coral colonies, such as increased levels of UV radiation and excessive water temperatures.
At the time, the Third Nuclear Power Plant (核三廠), located at the northern end of the bay, had already been operating for three years.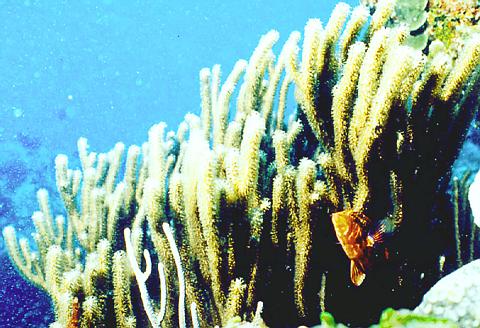 A photograph taken at a coral reef off Nanwan, near Kenting, shows healthy coral, covered with algae, in the background. It contrasts with the dead, bleached coral in the foreground. The discharge of hot water from Taipower's Third Nuclear Power Plant into the sea has been blamed for causing the destruction of some of Taiwan's coral reefs.
FILE PHOTO
The scientists, Fang Li-hsing (方力行) and Wang Wei-hsien (王維賢), from Kaohsiung's National Sun Yat-sen University (中山大學), concluded that the coral bleaching phenomenon was occurring near a system of pipes from which hot waste water from the nuclear plant's cooling system was discharged.
The bleaching, they said, could be detected as far as 1.5km west of the pipes, and as deep as six meters below the surface, according to data collected by seven monitoring instruments deployed near the pipes.
At the time, coral bleaching was a newly-discovered phenomenon; work on its causes and effects has progressed steadily since.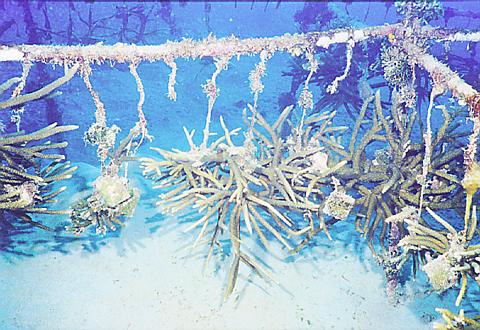 With assistance from Taipower, National Sun Yat-sen University is experimenting with growing coral artificially in an attempt to better understand the causes of coral bleaching and how such damage can be reversed.
FILE PHOTO
More than a decade later, Soong Ker-yea (宋克義), a professor of marine biology at the university, is continuing the tough tasks of both monitoring the site's ecological systems and attempting recovery work on the coral.
Current situation
Scientists and officials at the nuclear power facility are cautious when assigning blame to the problem.
"First of all, I should stress that damage to coral reefs in Taiwan's waters can be attributed to both natural and man-made factors," Soong said at a recent press conference held by officials at the nuclear power plant.
He explained that several problems, including over-fishing, water pollution, poaching of both coral and marine animals in addition to the construction of a causeway nearby had acted together to destroy some of the coral.
Composed of the calcified exoskeletons of colonies of marine polyps, coral reefs are among the richest, most productive ecosystems on the planet.
"Coral reefs, which are home to at least 35,000 marine species, exist in only 3 percent of the world's waters," Soong said, adding that Taiwan itself was surrounded by coral reefs.
Soong has begun a coral reef recovery program with assistance from Taipower. It involves work both in the field and in laboratories equipped to observe the properties of growing coral.
Showing reporters photographs taken in waters nearby, Soong said that the program would be able to propose measures to prevent more such environmental catastrophes, and find remedies to halt the deterioration of affected coral reefs.
Soong said that coral bleaching is a growing problem around the globe, and that up to70 percent of existing coral could actually disappear within 40 years, based on data from the US National Oceanic and Atmospheric Administration (NOAA), which has been engaged in global coral reef monitoring work for several years.
"We realize that coral reefs are being destroyed at an alarming rate, but it's hard for us to know precisely where and how much coral bleaching is happening, because of difficulties monitoring conditions underwater," Soong said.
Soong said that several foreign studies have strongly implicated gradual warming of the world's oceans as a major cause of coral reef bleaching.
"Coral is protected from UV light by chlorophyl-containing algae in a symbiotic relationship. But the algae is sensitive to elevated water temperatures, which hinder the process of photosynthesis in the organisms," Soong said.
Less algae means more damaging UV light can reach the coral, resulting in the death of coral colonies.
Hot water from nuclear power plants, he added, has been identified as the main reason for coral bleaching in areas near the Nanwan facility since the phenomenon was brought to light for the first time in Taiwan 11 years ago.
Sharing the blame
Aside from concerns over potential radiation leaks, nuclear power plants are still being targeted by environmentalists for their adverse effects on coral reefs.
In 1987, authorities at the Third Nuclear Power Plant, working together with academics, initiated a comprehensive monitoring and restoration project in coastal areas in southern Taiwan,
"The heat damage to coral reefs and the impact on marine ecology caused by hot water from the plant by itself is limited.
"We have taken action to control variations in the temperature of the water around affected reefs to within 4℃, which is bearable for coral," said Tu Yueh-yuan (杜悅元), director of Taipower's environmental protection department (台電環保處).
"In addition, we are working with the Tungkang Fisheries Research Institute (東港水產試驗所) to raise coral in an effort figure out proper living conditions for such colonies," Tu said.
"We have been very careful about [coral bleaching]. It's not reasonable to ask for the removal of the power plant just for the sake of the coral," said Tu, adding that the site was chosen for construction of the nuclear plant 15 years ago, before plans were made for Kenting National Park (墾丁國家公園).
Taipower officials added that other factors also blamed for the coral bleaching should be investigated.
Officials said that due to the now-booming sightseeing business in Kenting -- which draws more than 3 million tourists every year -- increased sewage discharge in the area has polluted the waters, causing additional damage to nearby coral.
They added that proper environmental protection should be carried out by collaboration among different governmental administrative units.
A good example, they said, was a recently-completed sewage treatment network in the Nanwan area.
Construction of the sewerage system cost NT$610 million and has been in operation since last January. It can treat 3,000 tonnes of sewage daily, they said.
"Everyone should play their part in protecting our treasured environment," said Chen Pu-tsan (陳布燦), deputy station manager at the Nanwan power plant.
Comments will be moderated. Keep comments relevant to the article. Remarks containing abusive and obscene language, personal attacks of any kind or promotion will be removed and the user banned. Final decision will be at the discretion of the Taipei Times.