An interview with "Xanana" Gusmao
He is the man most expect to be the first president of the newly independent state of East Timor, the former guerilla leader who attained hero status while languishing in a Jakarta jail cell from 1992 to 1999. Now Jose Alexandre "Xanana" Gusmao has returned to his homeland to discover a nation in ruins and a people totally reliant on the welfare of the international community. in this candid interview with Taipei Times correspondent,Torgeir Norling>, Gusmao discusses the events of the past, the problems of the present, and the enormous challenge to build a future from nothing
Taipei Times: You are back in East Timor as a free man, but your country has been destroyed and your people killed. How was this allowed to happen?
Xanana Gusmao: It is very difficult to explain. It all springs from the intentions of the Indonesian military. We warned the international community to implement measures to stop this. We warned them a long time before the the popular consultation [the ballot on Aug. 30] that it could descend into chaos. But nobody believed us. When I arrived back for the first time, I was devastated by what I saw, because of the destruction. Yet slowly, as I have met my people, I have a new confidence, a new determination to fight [for the future of East Timor]. The problem now is that we the East Timorese are without means. We are so dependent, we feel very small and fragile. But I have confidence that this will not last too long. We have hopes that after the transitional period we can rebuild our country.
TT: So who do you believe was behind this campaign of violence and terror -- was it orders from rogue elements within the TNI (Indonesian Armed Forces) or did the order to destroy Timor come from high up in the Indonesian government?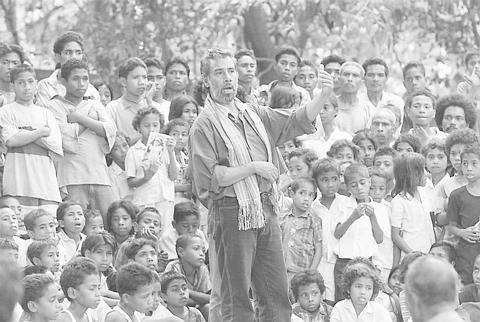 East Timor's independence leader Xanana Gusmao gestures while speaking before his supporters at Wailili village in Baucau east of Dili this week. Gusmao was on a tour of the country to speak to his people.
PHOTO: REUTERS
Gusmao: I think the TNI not the government was behind it, although there was also in civilian circles people who regretted so much the choice of our people. The TNI and the special forces Kopassus could never be ready to accept the military and political defeat.
TT: Former defense minister Wiranto showed up at the airport in Dili on September 5th, having meetings with militia and TNI commanders. The violence just escalated after that. Do you believe General Wiranto was the mastermind behind the violence?
Gusmao: I conveyed messages to Wiranto through his staff, an Admiral, who contacted me a few times. I told him Wiranto could stop everything if he wanted to. I told him it was for the sake of the Indonesian government, TNI and Wiranto himself to stop it. Wiranto had nothing to lose if he took serious measures [to stop the violence]. In Indonesia, everybody knew that Wiranto, as the representative of TNI, without pressure, without obstacles, could get the vice presidents position. He should at that time have taken the democratic process in Indonesia into consideration. What then happened to him and his candidacy shows very clearly that he lost the vice presidents place because of all the shame brought by the army to the Indonesian people. If Wiranto was a man, a leader worthy of the vice president position he would have avoided what happened in East Timor.
TT: What was TNI's plan and motive? Did they expect Falintil [East Timor guerillas] to fight back?
Gusmao: The objectives and their aims was to prove to the international community that TNI had nothing to do with the violence in East Timor, that it was a civil war. They had benefited in the New York agreement on the 5th of May. One of the UN's mistakes was to give TNI and the Indonesian police the responsibility of security. Because of that, TNI was considered a neutral force, a neutral compound in the process. Then they believed the international community simply would accept the idea that fighting was taking place between two factions, not involving TNI, as TNI was overseeing the process. They spent energy to show to the world the problem of reconciliations, the problem of two warring factions, and they expected Falintil to respond to their actions. That was what they were waiting for, to destroy more than they did. Fortunately, Falintil restrained themselves. It hurt us very much to witness the destruction without doing anything, but we still feel responsible for avoiding the worst situation, a situation that would have allowed them to kill more of our people.
TT: So if you fought back TNI would have launched a full scale operation against Falintil?
Gusmao: I think so, and not only a full scale operation against Falintil but essentially against the East Timorese population. In the diplomatic scene we could have expected a very strong denunciation of what was happening, and a very strong defense on the ideas that the militias and Falintil were fighting each other; that the Indonesian government could not be responsible for this. As we avoided taking action against the violence, they had no arguments against us, no justification for the violence they created and the destruction they did.
TT: So you won the war by not fighting the last battle?
Gusmao: Yes, you are absolutely right. We know that our strategy of no reaction caused many problems to our people, but everywhere when I ask the population what they think about the destruction they tell me `It does not matter. If they want they can destroy everything.' What they regret is that they killed our relatives, and that they took some of our patriots to the other side [to fight for the militias].
TT: The UN were warned that what eventually did happen leading up to and after the vote could happen, but they still carried out the vote without adequate security ...
Gusmao: Yes it was the responsibility of the UN. From our side we have accepted everything because we wanted so much to be free. We cannot change what happened. What we can correct is that UNTAET (UN Transitional Administration in East Timor) must not try to colonize us, must not try to impose models because there are many cases of failures of the UN. We feel that in our own country we have no house, we have to run from one place to another place. There are still some within our movements that we have to control. We have an invasion of around 40 NGO's asking for about US$200 million, it is amazing, very amazing. What the Timor leaders want is about half of this; that donor countries through the World Bank maybe would give something like US$100 million. It was our plan to pay UNTAET half of this, and I expected only US$20 million to develop our country. We know we are in a very bad situation, but we are not so naive to accept this much money (US$200 million). I thought when I arrived that my people everybody already would have some shelter, but nothing. I am gathering with them everywhere. They ask me why I don't ask to the international community to help us, and then I receive a document from NGO's asking for US$200 million dollars to help. We didn't ask for it. We fear that we will be ordered to just do this or do that. We have no power no legitimacy to do something. It is very difficult for us, because we came from a very long struggle in which we could not prepare ourselves to immediately govern our poor country. We had to accept the May 5th agreement. But yes we learned that in the Rwanda case, the people of Rwanda took control of their country, and we want to avoid strong conflicts that you see wherever the UN are. (A political advisor breaks in, asking Gusmao to be careful.) I don't worry. I have to warn the international community. They already know that something is wrong here, that we don't accept everything. We have no legitimacy. When our people talk to the UN, they are told: `Oh no, you are from the resistance, the CNRT [Political umbrella group representing Timorese independence]. We control here. We control and administer East Timor. We are strong enough to expel anybody from East Timor.' I don't want to cause frictions but we don't feel very comfortable with some people acting like kings of East Timor, coming here to impose their models.
TT: The mandate for the UNTAET is quite clear. They are the transitional authority in charge of this country until a democratically elected government is in place. That could take a few years. What will you do if you have no power?
Gusmao: I have people. I have my people. Indonesia contributed in terms of physical development a lot to East Timor, much more than the Portuguese until 1975, but the people rejected them. The UN cannot in two years do more than the Indonesians did in 24 years.
In these two years they can only rebuild what the Indonesians already built. Indonesia gave more to the East Timorese people. The problem is that our people want to be independent. If not, we would have been integrated into Indonesia. Our people want independence, justice and freedom. The UN cannot in two years do more than the Indonesians did in 24 years. Yes I have my people. I believe in people power.
TT: After two years will there be an election then?
Gusmao: Yes after two years. We don't want to be colonized by the UN for too long. Maybe in two years we have an election and say bye, bye to the United Nations.
TT: So who do you want in East Timor?
Gusmao: We will select NGOs who really want to help, not to invade with expensive programs. With our sovereignty in our hand we can go for example to [other countries], and say please help us with this problem, in a bilateral co-operation. Now the problem is different. In 10 to 15 years we will have to pay what we owe, we will be in debt. We must be careful.
TT: Many of your people are still held in refugee camps in West Timor. How will you get them home?
Gusmao: I will go to Jakarta and talk to the Indonesian government, I was told by the Indonesian task force a few days ago that the new Indonesian President wants to meet me. We will talk about many issues regarding the relations between East Timor and Indonesia, and we will also talk about the refugees. I believe the new Indonesian government will play a very positive role by helping the people back.
TT: Many pro-autonomy supporters have also asked to come back. Will they have a future in East Timor?
Gusmao: We will receive them. We have already made clear to our people that everybody who were anti-violence and accepted the result of the popular consultation will be welcomed back and integrated in social life. But anybody who was directly or highly involved in the violence and destruction will have to face justice.
Comments will be moderated. Keep comments relevant to the article. Remarks containing abusive and obscene language, personal attacks of any kind or promotion will be removed and the user banned. Final decision will be at the discretion of the Taipei Times.