Claire Kuo's appeal to "Love Together" 花旗聯合勸募開跑 歌手郭靜號召「一起愛」
Over the past 22 years, Citibank and United Way of Taiwan (UWT) have been working together to raise funds for small and medium-sized social welfare groups so as to help those in need. Taiwanese singer Claire Kuo has taken on the role of the Ambassador of Love for the 22nd Citi-United Way Fundraising Campaign this year, calling for donations from members of the public.
The fundraising campaign will run until Feb 28 next year. Those who donate NT$500 or more for 12 consecutive months will receive a chicken doll and a small bag. With a promotional event featuring capsule toys representing five different disadvantaged groups, this year's event aims at informing donors about the recipients of their donations.
The online activity featuring capsule toys will begin next month. By donating at least NT$200 through the official Web site of the event, donors will have a chance to win a capsule toy.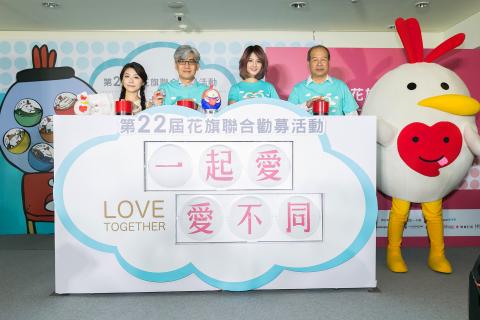 Singer Claire Kuo, second right, kicks off the 22nd Citi-UWT Fundraising Campaign at a Taipei news conference on Nov 3. 歌手郭靜(右二)十一月三日在台北舉行的記者會上,宣布第二十二屆「花旗聯合勸募活動」正式開跑。
Photo courtesy of Citibank
照片:花旗銀行提供
(Citibank, translated by Eddy Chang)
花旗銀行與中華社會福利聯合勸募協會攜手二十二年為中小型社福團體募款,以資助需要幫助的朋友。第二十二屆「花旗聯合勸募活動」今年由知名台灣歌手郭靜擔任愛心大使,為活動號召大眾響應捐款。
募款活動至明年二月二十八日止,凡月捐五百元以上連續十二個月,即可獲贈小雞布偶及小提袋。今年還搭配另一項「扭蛋」的創意活動,希望捐贈人在捐款的同時,也能透過扭蛋中的五款弱勢族群的公仔了解自己協助的受贈人。
網路扭蛋活動將於下月展開,民眾只要至活動官網捐款兩百元以上,即能線上參與一次活動贏得扭到的公仔。
(記者:張聖恩)
Publication Notes
TODAY'S WORDS
今日單字
1. welfare n.
福利
(fu2 li4)
2. fundraising n.
募款
(mu4 kuan3)
3. donation n.
捐款;捐贈
(juan1 kuan3; juan1 zeng4)
4. donor n.
捐贈人
(juan1 zeng4 ren2)
5. recipient n.
受贈人
(shou4 zeng4 ren2)
Comments will be moderated. Keep comments relevant to the article. Remarks containing abusive and obscene language, personal attacks of any kind or promotion will be removed and the user banned. Final decision will be at the discretion of the Taipei Times.