Angelina to adopt Taiwanese tot 安吉莉娜裘莉將領養台灣女童
Angelina Jolie, Hollywood superstar and a Goodwill Ambassador for the UN High Commissioner for Refugees, is reportedly planning to adopt an aboriginal child from Hualien. The little girl, identified as Hsiao Kai-wan, is a four year old orphan and will be the fifth child for the actress and her partner, screen idol Brad Pitt.
Jolie, 31, filed adoption papers in Hualien in late January through a US based agency, April's Premier Adoption Agency. She plans to adopt the girl as a single parent because she is unmarried, officials have said. Taiwanese law does not stipulate that adopters must be married.
The Taiwanese adoption process is relatively straight forward. Prospective parents must file an application with the Taiwan Supreme Court. The Supreme Court then delegates the case to the relevant Taiwan District Court. The process, including the approval of the home study, child referral and formal completion of the process takes around 10 months. The prospective parent must appear before the appropriate District Court in person towards the end of the process.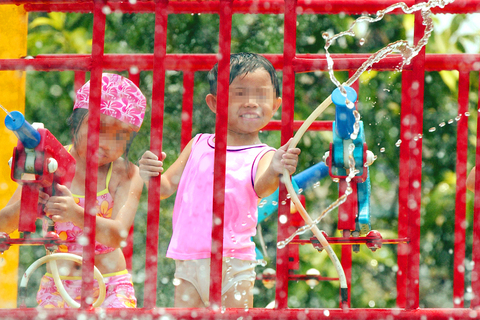 The girl on the left is Hsiao Kai-wan. Image obscured for privacy reasons. 照片左邊的女孩就是蕭凱婉。基於保護隱私的理由,影像已經過處理。 (照片:美聯社)
PHOTO: AP
Adoptions of Taiwanese orphans by American citizens have risen steeply from 48 adoptions in 2002 to 187 last year.
Jolie and her partner Pitt already have four other adopted children: Maddox, from Cambodia, aged five; two-year-old daughter Zahara, who was adopted from Ethiopia; and three and a half year old Pax Thien, whom Jolie adopted from Vietnam in March of this year. Jolie and Pitt also have a biological daughter, Shiloh, born to the couple last May in Namibia.
Jolie reportedly has tattoos of the geographical coordinates of her children's birthplaces — Phnom Penh, Cambodia; Addis Alem, Ethiopia; and Swakopmund, Namibia. (Catherine Thomas, Staff Writer, With Agencies)
根據報導,擔任聯合國難民事務高級專員公署親善大使的好萊塢超級巨星安吉莉娜裘莉,正計畫收養花蓮一名原住民兒童。這個名叫蕭凱婉的四歲孤女,將成為裘莉及其銀幕偶像情人布萊德彼特的第五名子女。
三十一歲的裘莉一月底透過總部設在美國的收養機構「April's Premier」向花蓮方面遞出領養申請。承辦人員表示,未婚的她打算以單親身分收養這名女童。台灣法律並未規定領養人必須已婚。
台灣的領養申請手續相當簡單,有意領養的父母須先向最高法院提出申請,最高法院再將申請案派發相關地方法院處理。整個申請過程包括到府訪查認可、兒童推薦到手續正式完成,需時約十個月。在申請完成前,有意領養的父母必須親自到相關地方法院辦理手續。
美國民眾申請領養台灣孤兒的案件已從二00二年的四十八件驟增到去年的一百八十七件。
裘莉與男友布萊德彼特已領養了四名小孩:五歲的柬埔寨男童馬達克斯、兩歲的衣索比亞女童撒哈拉及今年三月才收養的三歲半越南男童派克斯。裘莉與彼特還有個去年五月在納米比亞出生的親生女兒希洛。
據報導,裘莉的身上刺有小孩出生地座標的刺青─柬埔寨的金邊、衣索比亞的阿迪斯阿聯及納米比亞的斯瓦科蒙特。
(綜合外電/翻譯:林倩如)
Publication Notes
Today's Words 今天單字
1. adopt v.i. /v.t.
收養 (shou1 yang3)
例: Adopted children are often told of their status early on.
(被收養的小孩通常很早就得知自己的身世。)
2. stipulate v.i. /v.t.
規定 (gui1 ding4)
例: The contract stipulated that all work would be completed by the fifth of the following month.
(合約規定所有工作將得在下個月五號前完成。)
3. straight forward v.phr.
簡單 (jian3 dan1)
例: The form was straight forward. I filled it out in five minutes.
(那表格簡單易懂,我不到五分鐘就填寫好了。)
4. prospective adj.
未來的 (wei4 lai2 de5),預期的 (yu4 qi2 de5)
例: Many prospective students attended the university's Open Day.
(許多準大學生趁著那所大學對外開放的日子到校參觀。)
Comments will be moderated. Keep comments relevant to the article. Remarks containing abusive and obscene language, personal attacks of any kind or promotion will be removed and the user banned. Final decision will be at the discretion of the Taipei Times.