Unions support pilots, not advance notice for strikes
BLACKMAIL? A Taipei City Confederation of Trade Unions official said it was unfair to portray the pilots' strike as an attempt to force the airline by holding passengers hostage
About 150 people from 60 labor unions nationwide yesterday rallied outside Taipei International Airport (Songshan airport) in solidarity with an ongoing strike by China Airlines Ltd (中華航空) pilots, voicing their opposition to legislation that would require workers to give employers advanced warning of a strike.
Chanting "we want flight safety" and "we support the strike," participants gathered outside the airport before marching to the Civil Aeronautics Administration building, where they shouted words of encouragement to members of the Taoyuan Union of Pilots, who were collecting pilots' licenses for the nearby strike.
China Airlines pilots launched the strike on Friday during the Lunar New Year holiday, demanding that the company reduce their work hours, increase bonuses, replace poor-performing managers and ban retaliation against union members.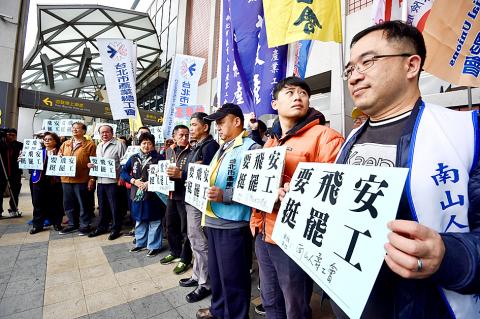 Representatives of various labor unions hold signs at Taipei International Airport (Songshan Airport) yesterday to express their support for China Airlines pilots who are on strike.
Photo: Peter Lo, Taipei Times
As of yesterday, the number of pilots who joined the strike rose to more than 600, the union said.
"We cannot stand the way in which China Airlines and other people have unfairly portrayed the strike as an attempt to blackmail the company by holding passengers hostage," Taipei City Confederation of Trade Unions executive director Chen Shu-lun (陳淑綸) said.
The strike was "single-handedly caused by the company" after it ignored the union's warning of a pending walkout, she said.
Before that, the pilots had attempted to negotiate with the company for nearly a year, she added.
"Seeing the amount of resistance that the union is facing during this strike, we can only imagine how much more difficult it would be for even less-advantaged workers to launch a strike," she said, adding that the fight for better work conditions is universal.
The unions that took part in the rally covered a wide range of industries and sectors, including transportation, banking, nursing, cleaning services, electronics manufacturing and the media, and come from various regions of Taiwan, she said.
"We will continue to ask more people to join us in supporting the strike," she said.
Although China Airlines complies with the Aircraft Flight Operation Regulations (航空器飛航作業管理規則), there is still room for improvement, she said.
"We don't want the lowest-acceptable work conditions; we want decent work conditions," she said.
Since Friday, several government officials and legislators have advocated for legislation that would require workers to give employers advance notice of a pending strike, confederation chairwoman Cheng Ya-hui (鄭雅慧) said.
"What they are saying is nonsense. The legal procedures for strikes are already extremely complex and difficult," she said.
The pilots were able to launch the strike because they had been planning to do so since the Mid-Autumn Festival last year, she said.
Through this strike, the pilots of the Taoyuan Union of Pilots hope not only to improve their own working conditions, but also to encourage more workers to fight against overwork, union member Chen Chien-tsai (陳建財) said.
"We hope to see more workers unionize and help us put an end to Taiwan's reputation as the island of overwork," he said. "That is the kind of significance we really hope to create."
Comments will be moderated. Keep comments relevant to the article. Remarks containing abusive and obscene language, personal attacks of any kind or promotion will be removed and the user banned. Final decision will be at the discretion of the Taipei Times.