Time for 'made in Taiwan' is now: Tsai
IMPORTANT ROLE: Overseas Taiwanese businesses can participate in increasing domestic demand to offset the decline in exports, President Tsai Ing-wen said
Now is the best time for Taiwanese businesses to return home, President Tsai Ing-wen (蔡英文) said at a Lunar New Year banquet in Taipei for Taiwanese businesspeople operating in China.
At the Grand Hotel yesterday, Tsai said that although she is no longer Mainland Affairs Council minister, her concern for overseas businesspeople remains the same.
While the Taiwanese economy faces challenges such as a global economic slowdown and weakening trade demand, and changes in US-China trade relations, these challenges also present an opportunity for improvements, Tsai said.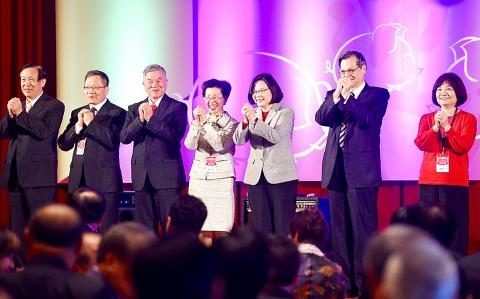 Straits Exchange Foundation Chairwoman Katharine Chang, fourth, left, President Tsai Ing-wen, Mainland Affairs Council Minister Chen Ming-tong and other officials attend a banquet for China-based Taiwanese businesspeople in Taipei yesterday.
Photo: Peter Lo, Taipei Times
To respond to these challenges, the government is working on three major initiatives: expanding domestic demand, assisting overseas businesses to return and invest in Taiwan, and marketing Taiwan globally, she said.
The government hopes that an increase in domestic demand could offset the decline in exports and allow the economy to grow at a steady rate, she said, adding that she looks forward to overseas businesspeople playing an important role in this process.
For overseas Taiwanese businesses, the most effective response to global economic conditions would be to move production back to Taiwan, she added.
Now is the best opportunity, she said, calling on overseas businesses to switch their products from being "made by Taiwanese businesses" to being "made in Taiwan."
Taiwan welcomes returning businesses with open arms, she said, adding that this year, the government proposed a business-oriented action plan devoted to eliminating investment hurdles.
A customized, one-stop service integrates various aspects of investment, such as land, labor, water supply, electricity and taxes, she said.
The government is working with greater intensity on developing strategic partnerships with countries covered by the New Southbound Policy, she said.
Straits Exchange Foundation Chairwoman Katharine Chang (張小月) said that nearly 600 guests — the highest in years — attended the banquet, which was sponsored by the foundation, the Mainland Affairs Council, the Ministry of Economic Affairs, the Chinese National Federation of Industries and the General Chamber of Commerce of the Republic of China.
At the banquet, Tsai also discussed cross-strait relations, saying: "We have never opposed cross-strait exchanges."
Given China's geographic proximity, it is natural and inevitable that the two countries would interact in areas affecting tourists, businesses and marriages, she said.
However, these interactions should not be restricted or disturbed by any sort of political framework or preconditions, she said, adding that only with equal dignity can Taiwan and China create a mutually beneficial situation.
Taiwan, as a responsible member of the international community, would continue maintain stable cross-strait relations, but that responsibility should be shouldered by all players in the region, Tsai said.
Chang said that cross-strait exchanges should be founded on humanity and kindness, adding that no political preconditions should be set.
She said she hopes that Taiwanese businesspeople in China would not be put in a difficult position.
Comments will be moderated. Keep comments relevant to the article. Remarks containing abusive and obscene language, personal attacks of any kind or promotion will be removed and the user banned. Final decision will be at the discretion of the Taipei Times.