At least 100 arrested in crackdown: CIB
ROUNDUP: Police have arrested three Four Seas Gang members, 22 members of the Bamboo Union and 17 from the Heavenly Way Alliance, along with 15 wanted criminals
The Criminal Investigation Bureau (CIB) and police have arrested at least 100 suspected gangsters in a nationwide crackdown, with the bureau touting the result as "boding well" for public security and curtailing criminal elements' involvement in vote-buying, violence and social disturbances in the run-up to the elections on Saturday next week.
Among the targets were members of three major organized crime syndicates: the Bamboo Union, the Heavenly Way Alliance and the Four Seas Gang, CIB 4th Investigation Corp Deputy Chief Wang Chih-cheng (王志成) said.
One major figure under arrest was a 35-year-old man surnamed Tsai (蔡), reputedly head of a Four Seas Gang chapter in New Taipei City, who allegedly used violence to collect debts, and was at the center of several disputes over money and control of territory.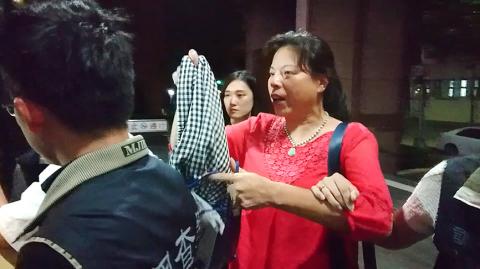 Ministry of Justice Investigation Bureau agents escort Chinese Democratic Progressive Party Taipei City councilor candidate Zhang Xiuye, center, to the Taipei District Prosecutors' Office on Tuesday.
Photo: Huang Chieh, Taipei Times
"Tsai's arrest helps to halt violence and public disturbances, while illegal firearms, bullets, knives, cash and checks have been seized. This is part of efforts to prevent organized crime syndicates from interfering in the nine-in-one elections," Wang said.
Police have arrested three alleged Four Seas Gang members, including Tsai, 22 alleged members of the Bamboo Union and 17 from the Heavenly Way Alliance, along with 15 wanted criminals and 84 individuals with various alleged gang affiliations, CIB data showed.
Among those arrested were two Bamboo Union members who are ranking officials in the Chinese Unity Promotion Party (CUPP), the pro-Beijing organization long suspected of receiving financial support from China, and seven other gangsters who are also affiliated with political parties, Wang said.
The three crime syndicates have a largely pro-China ideology, and many of their leaders have business operations in China or have fled to China after being prosecuted, CIB officials said.
One clear example is CUPP founder Chang An-le (張安樂), whose Taolue Group (韜略集團) has offices in Hong Kong and Dongguang, China, officials said.
It is suspected that organized crime syndicates are a primary conduit for the Chinese government to funnel an estimated NT$35 billion (US$1.13 billion) in financial support to pro-China organizations and political parties to run propaganda campaigns in an attempt to subvert the nine-in-one elections, they said.
Meanwhile, Concentric Patriotism Association (CPA) chairman Zhou Qinjun (周慶峻) and Chinese Democratic Progressive Party Taipei City councilor candidate Zhang Xiuye (張秀葉) have been barred from leaving the nation and confined to their residences for allegedly contravening the Political Donations Act (政治獻金法).
The office said they received an anonymous tip-off that the CPA on Oct. 1 held a feast at Ichilong Restaurant in Taipei's Zhongshan District (中山) to "celebrate the National Day of the People's Republic of China."
The CPA had reserved 60 tables at NT$7,000 per table and Zhang was allegedly seen canvassing for votes for her campaign, prosecutors said.
Zhou invited nearly 20 members of the CPA to visit Guizhou Province between July and August for what was called a "landing treat" event, they said.
Zhou oftens visits underground currency exchange dealers, to allegedly exchange yuan that he brings back from China into New Taiwan dollars, they said.
The funds are suspected to be from the Chinese government and are backing Zhang's campaign, they said.
Zhou has denied the allegations that the CPA and Zhang's campaign are being subsidized by China.
Additional reporting by Yao Yueh-hung
Comments will be moderated. Keep comments relevant to the article. Remarks containing abusive and obscene language, personal attacks of any kind or promotion will be removed and the user banned. Final decision will be at the discretion of the Taipei Times.