Home country gets Sad Story disqualified
CONFUSING: The e-game team was disqualified from competing in an event after being told that Taiwan does not belong to any region recognized by the tournament authorities
The Ministry of Foreign Affairs yesterday voiced grave concern over the disqualification of a Taiwanese team from a qualifying round for next year's Intel Extreme Masters (IEM) Katowice e-game tournament.
The ministry urged the organizer not to deprive the team members of the right to play in the event because of the political stance of their home nation.
"We have asked the representative office in Frankfurt, Germany, to verify the issue and have lodged a stern protest with the organizer — Cologne, Germany-based Turtle Entertainment — to express our grave concern and stance," the ministry said in a statement.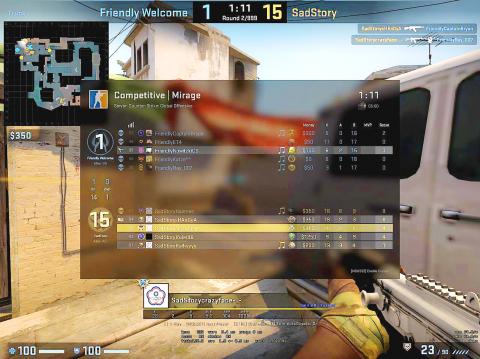 A screenshot of a Southeast Asia first-round match on Tuesday between Taiwan's Sad Story team and Japan's Friendly Welcome to qualify for next year's Intel Extreme Masters Katowice e-game tournament. Sad Story won 16-1.
Screengrab off Facebook page of Sad Story player CrazyFace
The ministry's response came in the wake of reports that the organizer disqualified Taiwan's Sad Story team despite its 16-1 win against Japan's Friendly Welcome in the Counter Strike: Global Offensive match of the Southeast Asia qualifier, on the grounds that the "Taiwanese team should have played in the Chinese qualifier."
"We initially thought that we should play in the Chinese qualifier, but to play in that qualifier, we would need Chinese passports," team member Crazy Face said on Facebook, adding that the team eventually succeeded in registering for the Southeast Asian qualifier.
"We have never had this problem before, not even a footnote in the rules saying that Taiwan has to register in the Chinese qualifier. We thought it was just a mistake that East Asia or Southeast Asia forgot to note Taiwan. Fun fact, we had already been playing East Asian and Southeast Asian tournament qualifiers for two years," he said.
The team was disqualified after being notified that "Taiwan does not belong to any region recognized by the tournament authorities."
Taiwan is not listed under any of the subregions for Asia in the tournament rules, but the rulebook states that "if your country is not listed, you should contact [the tournament] administration to seek clarification on which qualifier you should compete in."
The organizers said that they used the UN list of countries in compiling their list of countries and regions, but Taiwan is not a UN member.
Chinese Taipei e-Sports Association secretary-general Hung Chi-yan (洪梓硯) lamented the decision, but added that a country-to-country Olympic model was not adopted for IEM Katowice, as it is a commercial activity.
Comments will be moderated. Keep comments relevant to the article. Remarks containing abusive and obscene language, personal attacks of any kind or promotion will be removed and the user banned. Final decision will be at the discretion of the Taipei Times.