Vaccinations halted after discolored shot discovered
The Centers for Disease Control (CDC) yesterday issued an emergency call to stop issuing a flu vaccine in seven counties and cities after the Taipei Department of Health on Wednesday reported a discolored dose.
The suspension affects the Vaxigrip brand of trivalent flu vaccine manufactured by Lyon, France-based Sanofi Pasteur of the same lot number, the CDC said.
The government has prepared 6 million doses for this year's free flu shot program, which hospitals began administering on Oct. 15, the centers said, adding that Vaxigrip is one of the two vaccines it uses.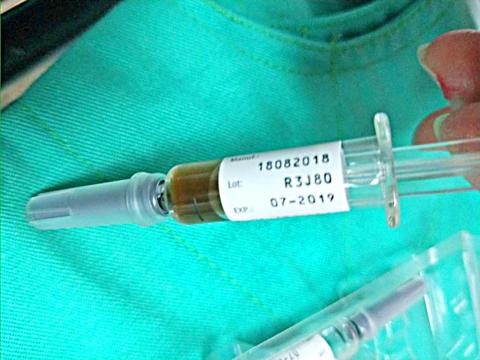 A worker holds a syringe of discolored trivalent flu vaccine Vaxigrip at a vaccination site in Taipei in an undated photograph.
Photo courtesy of the Centers for Disease Control
The other type, AdimFlu-S, is manufactured by Taiwan-based Adimmune Corp (國光生技), it said.
A Taipei-based medical worker administering flu shots at a mobile vaccination station saw that the vaccine in one of the syringes had a brownish color, while normal vaccines are transparent, the CDC said, adding that the discolored vaccine was not administered.
CDC officials inspected the Vaxigrip stock at its storage facility and did not find any other vaccine with abnormal coloring.
The nation has imported 300,000 Vaxigrip doses, with about 190,000 syringes having already been distributed to health centers in Taipei, New Taipei City, Hsinchu city and county, as well as Taoyuan, Taichung and Miaoli County, while about 100,000 syringes were still in storage, the centers said.
As of yesterday afternoon, more than 32,000 Vaxigrip doses had been administered, it said.
CDC Deputy Director-General Chuang Jen-hsiang (莊人祥) said this was the first time that the centers had seen discoloration of an influenza vaccine.
The centers would return the discolored vaccine to Sanofi Pasteur for further analysis and all vaccines in the batch are to be placed on hold until the company has finished its probe, Chuang said.
The Food and Drug Administration said it has asked Sanofi Pasteur to report the vaccines as defective and explain the discoloration as soon as possible.
Sanofi Pasteur in a statement said that the discolored sample was being delivered to the company's headquarters for analysis.
As there are no reports of similar incidents with the company's other vaccines, Sanofi Pasteur said it was regarding the case as an isolated incident.
Comments will be moderated. Keep comments relevant to the article. Remarks containing abusive and obscene language, personal attacks of any kind or promotion will be removed and the user banned. Final decision will be at the discretion of the Taipei Times.