Pompeo meets with Saudi king, prince on Khashoggi mystery
US Secretary of State Mike Pompeo yesterday met with Saudi King Salman and his son, Crown Prince Mohammad bin Salman, over the disappearance and alleged slaying at the kingdom's hands of Saudi writer Jamal Khashoggi at its consulate in Istanbul.
Pompeo smiled and shook hands with both men, who warmly greeted him just hours after a Turkish forensics team finished a search inside the Saudi consulate, looking for evidence of the Washington Post columnist's alleged killing and dismemberment.
A Turkish Ministry of Foreign Affairs official said that police plan a second search at the Saudi consul's home in Istanbul, where leaked surveillance footage show diplomatic cars traveled to shortly after Khashoggi's disappearance on Oct. 2.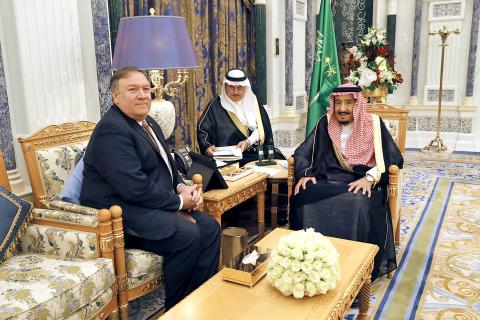 US Secretary of State Mike Pompeo, left, meets with Saudi King Salman, right, in Riyadh yesterday.
Photo: AP
Saudi officials have previously called Turkish allegations that the kingdom killed Khashoggi "baseless," but reports in US media yesterday suggested the Saudis might acknowledge the writer was killed at the consulate.
Saudi Minister of Foreign Affairs Adel al-Jubeir greeted Pompeo when he landed in Riyadh. The former CIA chief did not make any remarks to the media.
Soon after, Pompeo arrived at a royal palace, where he thanked King Salman "for accepting my visit on behalf of [US] President [Donald] Trump" before the two went into a closed-door meeting.
Khashoggi fled Saudi Arabia and took up a self-imposed exile in the US after the prince's rise.
Trump said on Monday after talking with King Salman that the slaying could have been carried out by "rogue killers."
Trump provided no evidence, but that statement potentially offers the US-allied kingdom a possible path out of a global diplomatic firestorm.
"The king firmly denied any knowledge of it," Trump told reporters Monday. "It sounded to me like maybe these could have been rogue killers. I mean, who knows? We're going to try getting to the bottom of it very soon, but his was a flat denial."
However, left unsaid was the fact that any decision in the kingdom rests solely with the ruling Al Saud family.
"The effort behind the scenes is focused on avoiding a diplomatic crisis between the two countries and has succeeded in finding a pathway to deescalate tensions," said Ayham Kamel, the head of the Eurasia Group's Mideast and North African practice. "Riyadh will have to provide some explanation of the journalist's disappearance, but in a manner that distances the leadership from any claim that a decision was made at senior levels to assassinate the prominent journalist."
CNN reported that the Saudis were going to admit the killing happened, but deny the king or crown prince had ordered it — which does not match what analysts and experts know about the kingdom's inner workings.
The New York Times reported that the Saudi royal court would suggest that an official within the kingdom's intelligence services — a friend of Prince Mohammed — had carried out the killing.
According to that reported claim, the crown prince had approved an interrogation or rendition of Khashoggi back to Saudi Arabia, but the intelligence official was tragically incompetent as he eagerly sought to prove himself.
Both reports cited anonymous people said to be familiar with the Saudi plans.
Saudi officials have not answered repeated requests for comment over recent days from The Associated Press.
Comments will be moderated. Keep comments relevant to the article. Remarks containing abusive and obscene language, personal attacks of any kind or promotion will be removed and the user banned. Final decision will be at the discretion of the Taipei Times.