Kaohsiung prison executes murderer
POLITICAL MOTIVATION? Rights advocates questioned whether the government was trying to drum up support before elections by showing that it was carrying out justice
Convicted murderer Lee Hung-chi (李宏基), who killed his ex-wife and their six-year-old daughter, was yesterday afternoon executed by shooting in Kaohsiung.
It was the first execution sanctioned by Minister of Justice Tsai Ching-hsiang (蔡清祥) — 46 days since he took office on July 16 — and the first under the administration of President Tsai Ing-wen (蔡英文) since she assumed the presidency on May 20, 2016.
Officials said 39-year-old Lee was informed of the Ministry of Justice's approval to carry out the order earlier in the day before he was taken to the execution ground at Kaohsiung Second Prison, where he was shot in the heart from behind at 3:37pm.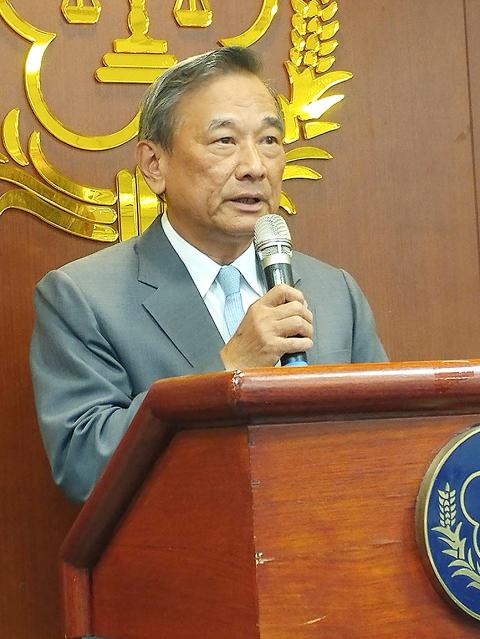 Deputy Minister of Justice Chen Ming-tang speaks at a news conference in Taipei yesterday.
Photo: CNA
In addition to the executioner, the process was watched by prosecutors, a coroner, the prison warden and security guards, Deputy Minister of Justice Chen Ming-tang (陳明堂) said in Taipei.
"Afterward, the body was examined and the coroner made the official announcement certifying Lee's death at 4:01pm," Chen said.
Lee and his ex-wife, surnamed Chen (陳), had two daughters. She had filed for a restraining order following domestic violence incidents and later filed for divorce, gaining custody of their two daughters.
On April 16, 2014, Lee waited for his ex-wife at the kindergarten their daughters attended, where he stabbed her to death with a kitchen knife before taking his eldest daughter and driving to the mountains in Hsinchu County.
Lee fed his daughter sleeping pills and then tried to commit suicide by burning charcoal in the car.
They were found unconscious the next day and rushed to a local hospital. Despite the efforts of medical personnel, his daughter died one month later.
Judges rejected an appeal and handed Lee the death sentence, citing his lack of remorse and his vowing in court to complete "unfinished business" and to take revenge on his ex-wife's family if he were to get out of prison.
Tsai said the ministry assessed the case with the highest prudence and applied the strictest criteria in reviewing and approving the execution warrant.
According to prison officials, when asked for his last words, Lee at first said he did not have any, but later said he felt sorry for his family.
Lee seemed ready to accept his fate and did not eat much of his last meal before requesting to smoke one last cigarette, prison officials said, adding that he walked to the execution ground without the assistance of security personnel.
Members of the Taiwan Alliance to End the Death Penalty held a protest following news of Lee's execution, saying that it was a step backward for human rights in Taiwan.
Other human rights advocates asked if the government was trying to show the public that it was carrying out justice in the run-up to the Nov. 24 nine-in-one elections, saying that no nation should use the death penalty to score political points.
Carrying out executions would not solve society's problems, they added.
Additional reporting by Chang Wen-chuan
Comments will be moderated. Keep comments relevant to the article. Remarks containing abusive and obscene language, personal attacks of any kind or promotion will be removed and the user banned. Final decision will be at the discretion of the Taipei Times.