Tropical depression brings heavy flooding to south
LINGERING EFFECTS: Tainan, Kaohsiung and Chiayi, as well as Yunlin and Chiayi counties announced that school and work cancelations will continue today
A tropical depression yesterday pummeled southern Taiwan, killing two people and severely flooding several places in Tainan, Kaohsiung and Pingtung County.
Two people were killed and one was severely injured when high winds felled scaffolding in Kaohsiung, the city's Department of Building Affairs said.
The tropical depression made landfall in Pingtung County yesterday morning, bringing torrential rainfall to the area, the Central Weather Bureau said.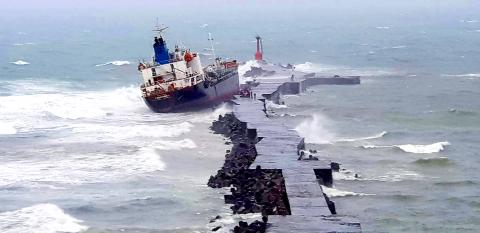 A handout photograph from the Kaohsiung Harbor yesterday shows a ship that ran aground yesterday off the harbor, one of five foreign cargo ships and oil tankers that ran aground in the morning during heavy winds and rain brought by a tropical depression. The 66 crew members aboard the five vessels were all safe, the Coast Guard Administration said last night after authorities mounted a rescue effort.
Photo: EPA-EFE / KAOHSIUNG HARBOR
Taichung, Chiayi, Tainan and Kaohsiung, as well as Changhua, Yunlin, Nantou, Chiayi and Pingtung counties canceled school and work last night starting at 6pm.
Yunlin County, Tainan and Kaohsiung, as well as Chiayi City and Chiayi County have announced that schools and offices will be closed today.
The system is to travel north along the west side of the Central Mountain Range toward the Taiwan Strait, the bureau forecast.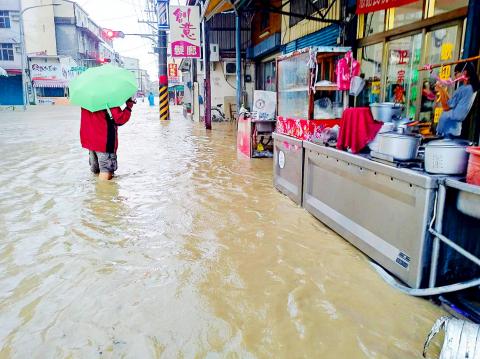 A pedestrian walks down a flooded street in Kaohsiung's Meinong District yesterday.
Photo: Huang Chia-lin, Taipei Times
Chances of extremely heavy to torrential rainfall remain high today in areas south of Taichung, it said.
People in northern Taiwan could see heavier rainfall today, the bureau said, adding that people should prepare for potential damage caused by lightning and floods.
In addition to causing severe flooding in downtown Tainan and Kaohsiung, the tropical depression disrupted shipping services.
Pingtung County Commissioner Pan Men-an, right, talks to officials yesterday during an inspection trip to see the rising Wannian Creek in Pingtung City.
Photo: Yeh Yung-chien, Taipei Times
Seven cargo ships ran aground off the coast of Kaohsiung, with 73 crew members on board waiting for rescue, the Port and Marine Bureau said.
Shipping services to Siaoliouciou (小琉球), Green Island (綠島) and Orchid Island (Lanyu, 蘭嶼) were also canceled.
Train tracks in Kaohsiung's Fongshan District (鳳山) were inundated with water, forcing the Taiwan Railways Administration to suspend operations.
Although the rain is expected to ease by tomorrow, the bureau said that both flat and mountainous areas in central and southern Taiwan could see accumulations of up to 800mm between yesterday and tomorrow.
Rainfall in mountainous areas in the southeast could top 400mm, whereas mountains in northern Taiwan could see 300mm of rain, the bureau said.
As of 7:40pm yesterday, eight of the top 10 weather stations with the most rainfall were in Kaohsiung, including the ones in Liouguei (六龜), Meinong (美濃), Chishan (旗山) and Taoyuan (桃源) districts.
From tomorrow until Wednesday next week, the nation is to remain under the influence of a monsoon trough, the bureau said, adding that southwest winds would bring thundershowers to central and southern Taiwan.
Cloudy skies with isolated thundershowers are forecast for the rest of the nation, it said, adding that chances of heavy to extremely heavy rainfall would remain high.
Heavy precipitation could also occur during afternoon thundershowers, with the high temperature varying between 31°C and 34°C, the bureau said.
Travelers to Japan and South Korea are advised to monitor the development of typhoons Cimaron and Soulik, which are to continue to affect the two nations today, it said.
Additional reporting by CNA
Comments will be moderated. Keep comments relevant to the article. Remarks containing abusive and obscene language, personal attacks of any kind or promotion will be removed and the user banned. Final decision will be at the discretion of the Taipei Times.