'Taiwan, China' on ETS site riles TOEFL students
UPSET: One cram school student said he wrote a letter to the Educational Testing Service to protest the name change: 'I saw 'Taiwan, China' — that is not my country'
Students at a Test of English as a Foreign Language (TOEFL) cram school in Taipei said they were upset when they earlier this month found that the US-based Educational Testing Service (ETS), widely known for examinations it develops for students planning to study in the US, including the Test of English for International Communication, Graduate Record Examinations and the TOEFL, has again changed the way it refers to Taiwan on its Web site to "Taiwan, China."
The school's owner, who asked to be identified by his English name, Austin Lin, said some of his students discovered the name change when registering this month for a TOEFL test on the ETS Web site.
Lin said the incident surprised him, because he had heard about Chinese students having their US visa applications rejected or their stays cut short after US President Donald Trump took office.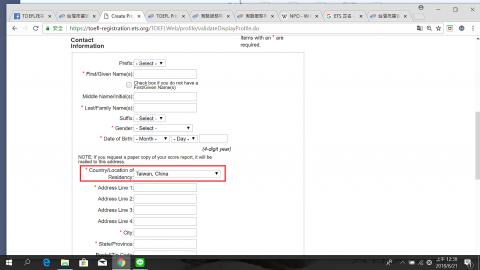 A screengrab of the Educational Testing Service Web site yesterday shows "Taiwan, China" as an option in the country category.
Photo: Screengrab by Sean Lin/Taipei Times
Such incidents were unheard of during former US president Barack Obama's time in office, he said.
The Trump administration, which generally takes a more confrontational attitude toward China, has reportedly imposed a stricter policy on Chinese students, due in part to Washington's concern about Chinese students taking technological know-how they learn in the US back to China, which would intensify the US-China rivalry, Lin said.
It is "disappointing" that ETS, as a non-profit organization with an influential role in education, should get involved, he added.
ETS adhering to Beijing's "one China" principle was likely motivated by the large number of Chinese students studying in the US, Lin said.
According to the Open Doors 2017 Executive Summary published by the Institute of International Education, Chinese students account for more than 30 percent of international students studying in the US.
"China has continually used its economic power to restrict Taiwan's international space. It is frightening that such efforts have even penetrated higher education," Lin added.
He said that the government should step up its efforts to retain local talent, saying that China has wooed away some Taiwanese overseas students by offering them high-paying teaching posts after graduation.
Some students at the school said they had filed protests with ETS.
One student, Chen Kuan-hsien (陳冠憲), said he wrote a letter to ETS to protest the name change.
"I protested that I could not find my country on the registration page, and did not know what to select," Chen said. "Then I saw 'Taiwan, China' — that is not my country."
Another student, Liu Chiang-yi (劉昌邑), said ETS still referred to Taiwan as "Taiwan" on its Web site when he registered last month for the TOEFL.
In 2006, when ETS introduced the Internet-based TOEFL, it also changed the way in which it referred to Taiwan, changing from "Taiwan" to "Taiwan, Province of China," which triggered widespread protest among test-takers over how the institute ignored Taiwanese sovereignty.
ETS, saying that the first name change was due to "negligence," eventually changed the designation back to "Taiwan" after the Ministry of Foreign Affairs intervened and asked it to make the correction.
Comments will be moderated. Keep comments relevant to the article. Remarks containing abusive and obscene language, personal attacks of any kind or promotion will be removed and the user banned. Final decision will be at the discretion of the Taipei Times.