Ties cut with Beijing-wooed El Salvador
FUTILE: The minister of foreign affairs announced the decision just hours after the ministry determined that El Salvador was insistent on changing sides to China
The government yesterday severed diplomatic ties with El Salvador after learning of its decision to switch allegiance to China — an apparent Beijing-orchestrated move — blasting the timing, one day after President Tsai Ing-wen's (蔡英文) return from an overseas state visit, as utterly unacceptable.
Minister of Foreign Affairs Joseph Wu (吳釗燮) announced the decision at a morning news conference in Taipei, just hours after the ministry determined that all diplomatic efforts to salvage its 85-year relation with the Central American country had been futile.
"It is regrettable that just one day after Tsai's return from her trip, we have to deliver this bad news to the public," Wu said, adding that Taiwan would immediately cease all cooperation and aid programs with El Salvador and pull its embassy staff out of the country.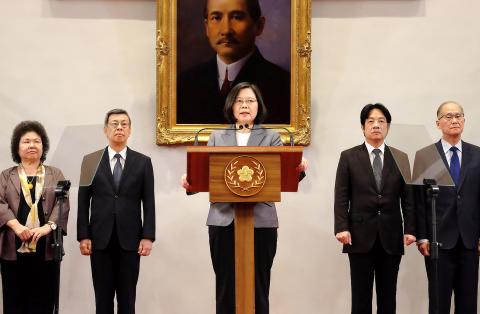 President Tsai Ing-wen, center, speaks during a news conference as members of her Cabinet look on at the Presidential Office in Taipei yesterday.
Photo: Sam Yeh/AFP
Shortly after Wu's announcement, Chinese Minister of Foreign Affairs Wang Yi (王毅) and acting Salvadoran Foreign Minister Carlos Castaneda signed a communique in Beijing establishing formal diplomatic ties.
The loss of the diplomatic ally came one day after Tsai wrapped up a nine-day state visit to Paraguay and Belize, during which she was allowed to make high-profile transit stops in the US cities of Los Angeles and Houston.
El Salvador is the fifth nation to switch diplomatic recognition to Beijing since Tsai took office in May 2016, following Sao Tome and Principe, Panama, the Dominican Republic and Burkina Faso.
Wu said the ministry had been trying to repair relations with El Salvador since June, when it started receiving intelligence indicating the country's intention to engage in talks with China over the potential establishment of ties.
Some of the nation's allies tried lobbying El Salvador on Taiwan's behalf, while the ministry also sent a special envoy to negotiate with the Salvadoran government, Wu said.
Wu said that he also made a visit last month to El Salvador to gain a better sense of the situation, when he met with the Salvadoran president, vice president and foreign minister, followed by a meeting with the Salvadoran deputy foreign minister in Paraguay during Tsai's visit there last week.
"It is a pity that, despite all our efforts, we still could not prevent today's situation from happening," he said.
Since last year, El Salvador had been asking Taiwan to invest in its Port of La Union development project, which the Taiwanese government determined to be impractical, as an evaluation team of experts had concluded that the project could expose the countries to heavy debt, Wu said.
El Salvador's ruling party also requested political donations from Taiwan for its presidential campaign, as it had been faring poorly in polls, Wu said, adding that Taiwan turned down the request, because it violated the nation's democratic principles.
"The government will never engage in a diplomatic bidding war with Beijing, nor will it provide illegal political donations just to cement ties," Wu said, adding that China's continued suppression of Taiwan would only make it more determined in its pursuit of democracy, freedom and sovereignty.
A source with first-hand knowledge of the matter, who requested anonymity, said that El Salvador had been trying to persuade Taiwan to bid on the Port of La Union project, estimated cost at US$4 billion, and a project to build a free economic zone, estimated at US$23 billion.
The government believes that China has made pledges regarding the projects, which might have prompted El Salvador's switch of recognition, the source said, adding that Salvadoran Ambassador to Taiwan Marta Chang de Tsien had until yesterday morning been kept in the dark about her government's decision.
Calling for national unity, Tsai yesterday said in a speech that Beijing's attempts to sabotage Taipei's ties with other nations and poach its allies have constituted a violation of the nation's sovereignty.
"We will continue to turn to like-minded countries to jointly fight against China's actions, which have gradually grown out of control," Tsai said, reiterating that her government would never bow to pressure.
Meanwhile, the American Institute in Taiwan (AIT) said China's efforts to unilaterally alter the cross-strait "status quo" are harmful and urged Beijing to abstain from coercion that might jeopardize the security, or the social or economic system, of the people of Taiwan.
"Taiwan is a democratic success story, a reliable partner, and a force for good in the world. The US will continue to support Taiwan as it seeks to expand its already significant contributions to addressing global challenges," AIT spokeswoman Amanda Mansour said.
Mansour also dismissed a link between China's poaching of El Salvador and Tsai's transit stops in the US, saying that there was no indication that the two were connected, and that Tsai's transit stops were consistent with Washington's long-standing practice.
Comments will be moderated. Keep comments relevant to the article. Remarks containing abusive and obscene language, personal attacks of any kind or promotion will be removed and the user banned. Final decision will be at the discretion of the Taipei Times.