Taiwan, US to defend free market: Tsai
LEVEL PLAYING FIELD: Taiwan and the US have worked to ensure fair competition for enterprises and protect them from political interference, President Tsai Ing-wen said
President Tsai Ing-wen (蔡英文) on Sunday expressed the hope that Taiwan and the US can work together to defend the free-market economy.
The president made the remarks at a Taiwan-US business forum in Houston, Texas, which was attended by Louisiana Governor John Bel Edwards and US Representative Eddie Bernice Johnson.
Taiwan and the US have spared no efforts to consolidate the free-market economy, protect enterprises by ensuring fair competition and safeguard businesses from political interference, Tsai told the forum, describing the efforts as the foundation of economic development in the two nations.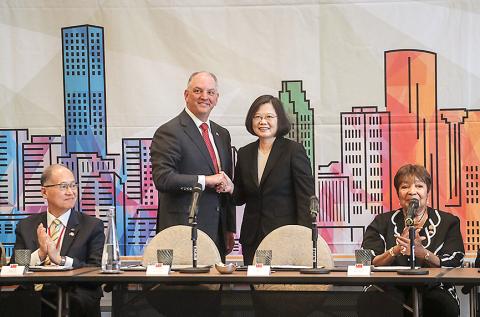 President Tsai Ing-wen, second right, shakes hands with Louisiana Governor John Bel Edwards at a Taiwan-US business forum, which was also attended by National Security Council Secretary-General David Lee, left, and US Representative Eddie Bernice Johnson, right, in Houston, Texas, on Sunday.
Photo: CNA
She expressed the hope that Taiwan can continue to defend the foundation along with the US.
Tsai's remarks came after China increased its efforts to block Taiwan's presence on the international stage, such as demanding that international airlines and hotel groups change Taiwan's designation on their Web sites.
Edwards told the forum that Louisiana has signed an agreement with Taiwan on the mutual recognition of each other's driver's licenses, making it the 27th US state to do so.
The forum was also attended by National Security Council Secretary-General David Lee (李大維), Minister of Foreign Affairs Joseph Wu (吳釗燮) and Vice Minister of Economic Affairs Wang Mei-hua (王美花).
After the forum, Tsai visited the Texas Medical Center's (TMC) Innovation Institute, where she was briefed by TMC chief executive officer and executive vice president Shawn Cloonan and director Erik Halvorsen.
Tsai's visit to the world's largest medical complex was aimed at learning how an innovative industrial cluster can be established and developed, and she would take the institute as reference for similar applications in Taiwan, Presidential Office spokesman Alex Huang (黃重諺) said.
Tsai arrived in Houston on Saturday for a 27-hour stopover on her way home after concluding state visits to Belize and Paraguay, two of Taiwan's 18 diplomatic allies.
She was scheduled to arrive in Taipei last night.
The New York Times in an article on Sunday said Tsai's two transits stops in the US was a sign of efforts to deepen relations between Taipei and Washington.
The visits to Houston and Los Angeles are considered "transit stops" rather than official visits, part of a long-standing restriction imposed by the US to maintain better relations with China.
However, Beijing has objected even to such brief stopovers, and the most recent ones came after US President Donald Trump demonstrated willingness to provoke China's anger, it said.
Bonnie Glaser, a senior adviser for Asia at the Center for Strategic and International Studies, a non-profit policy research organization, was cited in the article as saying that the Trump administration's approval of Tsai's visits to the Reagan Library and the Johnson Space Center in Houston showed that "they trusted she would not say or do anything that would increase cross-strait tensions."
Former American Institute in Taiwan director William Stanton said the Trump administration should retaliate in kind if Beijing fines US companies or restricts their access to the Chinese market for refusing to designate Taiwan as part of China.
"China's trying to make both Taiwan and the government of Tsai Ing-wen persona non grata throughout the world," Stanton said. "There's just no end to it."
Comments will be moderated. Keep comments relevant to the article. Remarks containing abusive and obscene language, personal attacks of any kind or promotion will be removed and the user banned. Final decision will be at the discretion of the Taipei Times.