Actress faces backlash for 'proud Chinese' apology
FAVORITE COUNTRY: President Tsai Ing-wen said "now is the time we need to demonstrate our firm will and loudly proclaim that our favorite country is Taiwan"
Taiwanese actress Vivian Sung (宋芸樺) on Thursday said she was "proud to be Chinese" in an apology after Chinese netizens uncovered a 2015 interview in which she said her favorite country was Taiwan.
Just as the Chinese-produced movie Hello Mr Billionaire (西虹市首富) starring Sung became a box-office hit in China, the actress was labeled an advocate of Taiwanese independence after the video interview was posted on the Internet.
In the brief interview, Sung was asked which is her favorite country and with whom she would like to visit it, to which she replied Taiwan, saying that she would like to stay in Taiwan with her family.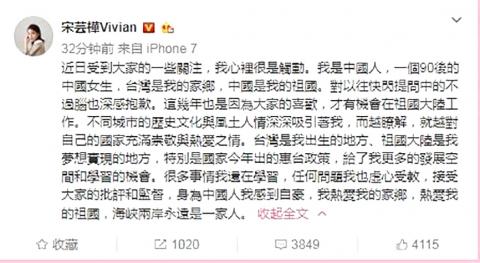 Taiwanese actress Vivian Sung's Sina Weibo shows a message posted on Thursday in which she apologized to Chinese netizens and said she was "proud to be Chinese."
Screen grab from the Internet
The video stirred controversy among Chinese netizens.
Sung late on Thursday posted an apology on her Sina Weibo microblog.
"I am very much shaken by the attention I have been getting lately," Sung wrote.
"I am a Chinese girl born in the 1990s. Taiwan is my hometown, China is my home country," she wrote. "I am deeply sorry for my mindlessness during the interview."
"I owe my opportunity to work in my home country of China to people's fondness of me in recent years," she added.
"I have been deeply fascinated by the histories and peoples of different cities," Sung said. "The more I learn, the more respectful and passionate I have become toward my home country."
"Taiwan was where I was born, but my home country of China is where my dreams came true," she said. "The 31 incentives for Taiwanese in particular catapulted my career and gave me many learning opportunities."
"I am proud to be Chinese. I love my hometown and my home country. People on both sides of the Taiwan Strait will forever be one family," she added.
The apology was reportedly issued less than 24 hours after the video was posted.
However, Sung's swift apology has backfired, as it apparently failed to win her the hearts of Taiwanese — and even Chinese netizens, some of whom said the statement was "too contrived."
"Do you think Chinese are retarded?" one Chinese netizen said.
"That is money talking," another said.
Meanwhile, Sung's Facebook page has been inundated with angry comments from Taiwanese netizens. At least 10,000 people have "unliked" the page, which as of press time last night had just more than 990,000 "likes."
"The only thing you were shaken by is the renminbi," one Taiwanese netizen wrote.
"Taiwanese movies gave you the popularity you now enjoy, but you have lost your dignity for money," another wrote.
Many called on Sung to renounce her Republic of China citizenship.
Presidential Office spokesman Alex Huang (黃重諺) yesterday said that the act of suppressing artists and coercing them into making political statement does not befit a modern, civilized society.
Separately, President Tsai Ing-wen (蔡英文) last night said that, in view of China's suppression, "now is the time we need to demonstrate our firm will and loudly proclaim that our favorite country is Taiwan."
Sung's case was the latest in a string of incidents in which Taiwanese entertainers have been pressured to pledge allegiance to China.
In December last year, My Dear Boy, a TV series produced and starring Taiwanese actress Ruby Lin (林心如), was pulled by Chinese censors from an online video streaming platform over reports that Lin supported Taiwanese independence.
The show was allowed back on the platform in January after Lin issued a statement saying that she "never supported and will never support any pro-independence discourse or actions."
On the eve of the 2016 presidential election, Taiwanese K-pop idol Chou Tzu-yu (周子瑜) apologized in a video for briefly holding up a Republic of China flag in an episode of a South Korean variety show.
The video showed a visibly saddened Chou bowing and saying: "There is only one China... I have always felt proud of being Chinese."
Taiwanese singer Crowd Lu (盧廣仲) and actor Leon Dai (戴立忍) have been blacklisted by Chinese authorities over their support of the 2014 Sunflower movement.
Additional reporting by Lee Hsin-fang and CNA
Comments will be moderated. Keep comments relevant to the article. Remarks containing abusive and obscene language, personal attacks of any kind or promotion will be removed and the user banned. Final decision will be at the discretion of the Taipei Times.