Joseph Wu urges Japan to set up security dialogue
Minister of Foreign Affairs Joseph Wu (吳釗燮) has called for Japan to engage in a security dialogue with Taiwan, as both nations have come under military pressure and threats from China.
In an interview with the Sankei Shimbun published yesterday, Wu called for Taiwan and Japan to initiate a security dialogue, saying that ensuring security is a shared responsibility of the two nations.
The newspaper called Wu's call a rare move, as Taiwan has no diplomatic relations with Japan.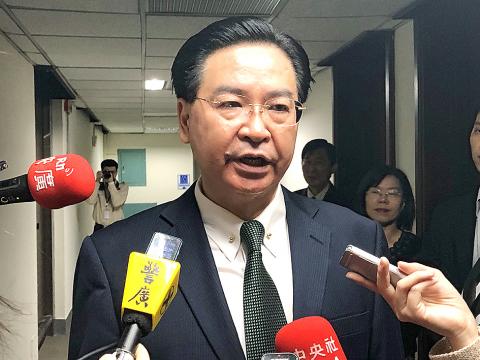 Minister of Foreign Affairs Joseph Wu talks to reporters in Taipei on March 5.
Photo: Lu Yi-hsuan, Taipei Times
Taiwan is looking forward to exchanges of views with Japan on ensuring security in light of increased activity by China's armed forces in the Western Pacific in recent years and the threat it poses to both nations, Wu said.
Citing the close US-Taiwan security cooperation as an example, Wu said the lack of diplomatic ties with Japan should not be a hindrance to a security dialogue.
He also said that visits to Taiwan by high-ranking officials from the US administration have increased in frequency, while the administration of US President Donald Trump in June last year approved the sale of US$1.42 billion of arms to Taiwan.
The report said that after the US cut official diplomatic ties with Taiwan in 1979, then-US president Jimmy Carter signed the Taiwan Relations Act into law later that year, laying the legal foundation for security talks between the US and Taiwan.
There have been US military attaches assigned to the American Institute in Taiwan's Taipei office since 2005, the report said.
In contrast, after Japan ended diplomatic relations with Taiwan in 1972, there has been a lack of legal foundation for exchanges between the two nations, the report said, adding that unofficial relations have only managed to bring about the appointment of one retired Japanese defense official to the Taipei office of the Japan-Taiwan Exchange Association.
Comments will be moderated. Keep comments relevant to the article. Remarks containing abusive and obscene language, personal attacks of any kind or promotion will be removed and the user banned. Final decision will be at the discretion of the Taipei Times.