Bureau seeking 10 'island masters'
A "Show Your Island" promotion campaign aimed at highlighting 10 of the nation's islands as travel destinations is looking for a few good people — 10 to be exact.
As part of its "Year of the Bay Tourism" campaign, the Tourism Bureau is looking for a "master" for each island, who would be given a week to produce videos or other marketing materials promoting their island to international and domestic tourists, with a daily allowance of NT$5,000.
The goal is to attract 100,000 visitors per year to Kuishan Island (龜山島), Green Island (綠島), Orchid Island (Lanyu, 蘭嶼), Siaoliouciou (小琉球), Cimei Island (七美島), Yuwong Island (漁翁島), Jibei Island (吉貝島), Siaokinmen (小金門), Beigan Island (北竿) and Dongju Island (東莒), the bureau said.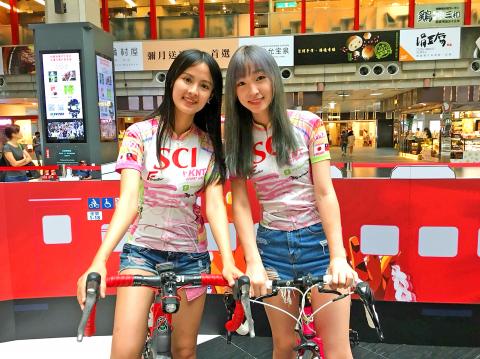 Two models yesterday take part in a Tourism Bureau news conference at Taipei Railway Station to promote tourism in Hualien and Taitung counties.
Photo: Hsiao Yu-hsin, Taipei Times
The bureau on June 1 began accepting applications for the positions and has received 64 valid applications so far, including some from Japan and France.
"We hope that we can attract 200 applicants," Tourism Bureau Director-General Chou Yung-hui (周永暉) said, adding that the application deadline is June 24.
From June 24 to July 10, a panel of independent experts would review the applications and netizens would be asked to vote on a shortlist of candidates, with the winners to be announced on July 17.
The 10 islands promotion is similar to Tourism Australia's 2009 "Best Job in the World" campaign that sought a caretaker and unofficial ambassador for Hamilton Island on the Great Barrier Reef.
Applicants must submit a one-minute video introducing themselves and saying which island they want, the bureau said, adding that they must also list the 10 islands in order of preference.
The most popular islands so far are Orchid Island and Siaoliouciou, the bureau said, adding that in case any of the islands fail to attract an applicant, a master would be picked based on the candidates' rankings.
"We hope these islands would become new tourism attractions so that international and domestic tourists can discover the beauty of Taiwan's islands," Chou said.
Comments will be moderated. Keep comments relevant to the article. Remarks containing abusive and obscene language, personal attacks of any kind or promotion will be removed and the user banned. Final decision will be at the discretion of the Taipei Times.