Hackers focused on five agencies last year: official
The Presidential Office, the ministries of health and welfare, foreign affairs and the Interior, as well as the Financial Supervisory Commission, were the government agencies most targeted by hackers last year, a high-level government source said.
The government classifies information security incidents into four levels based on their severity, with level 1 being the lightest and level 4 being the most severe.
A level 1 incident involves temporarily disabling or defacing a Web page, while level 2 and level 3 incidents refer to crashing the secondary and the main system respectively.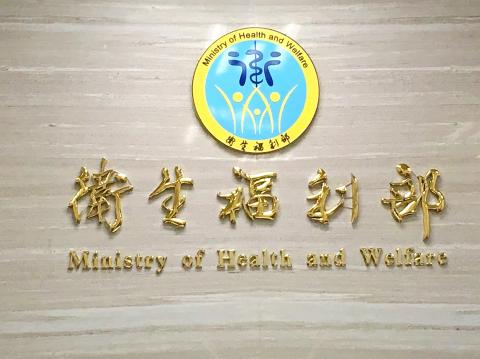 The Ministry of Health and Welfare's logo is pictured in the lobby of its Taipei building on Aug. 30 last year .
Photo: Lin Yen-tung, Taipei Times
Taiwan has not had a level 4 incident, which would be when the core systems of more than one government agency crash, and state secrets are stolen.
Last year, 151 incidents were reported by ministries and agencies overseen by the Executive Yuan — 116 level 1 incidents, 31 level 2 incidents and four level 3 incidents — government data showed.
Malware was found last year in the health ministry's core information security system, which had apparently been implanted to steal information on Taiwanese covered by the National Health Insurance (NHI) program, a senior government official said on condition of anonymity.
"Fortunately, we were able to stop the level 3 attack before the NHI information could be snatched," the official said, adding that Chinese hackers were believed to be behind the attack.
The foreign ministry, the interior ministry and the commission all experienced a level 3 attack last year, the official said.
The attack on the foreign ministry targeted the travel information of Taiwanese registered with the Bureau of Consular Affairs, while the interior ministry's automatic immigration clearance system at the nation's airports was hit, the official said.
Hackers targeting the commission stole NT$1.8 billion (US$60.27 million at the current exchange rate) from Far Eastern International Bank (遠東商銀), they said.
The Presidential Office was targeted seven times — six at level 1 and one at level 2.
The cyberattacks targeting its information security system had a low success rate thanks to its extensive protection measures, they said.
Comments will be moderated. Keep comments relevant to the article. Remarks containing abusive and obscene language, personal attacks of any kind or promotion will be removed and the user banned. Final decision will be at the discretion of the Taipei Times.