Convoy delivers aid to Eastern Ghouta as Syria conflict enters its eighth year
LEFT FOR DEAD: A doctor in Hammuriyeh said people wounded in the bombardment could not be reached, because warplanes were targeting anything that moved
A new convoy yesterday carried desperately needed food into Eastern Ghouta as Syria's war entered its eighth year with the regime pursuing a relentless assault on the rebel enclave near Damascus.
More than 350,000 people have been killed since the conflict erupted on March 15, 2011, with protests against Syrian President Bashar al-Assad.
Defying expectations, al-Assad has maintained his grip on power and his forces were yesterday edging closer to securing the once-threatened capital with an assault on rebel-held Eastern Ghouta.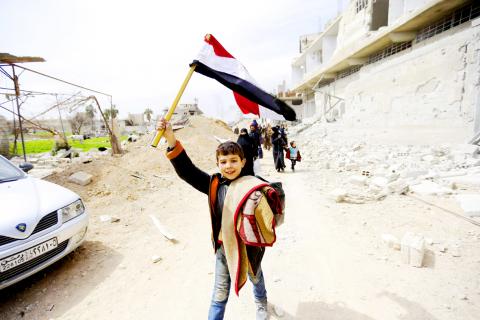 A boy yesterday waves a Syrian national flag as he arrives at a checkpoint in Adra, on the northeastern outskirts of Damascus.
Photo: AFP
Hunger-stricken residents in Ghouta's largest town received food aid in a new aid convoy, the International Committee of the Red Cross said.
Twenty-five trucks carried food parcels and flour bags for more than 26,000 people, Red Cross communication coordinator Pawel Krzysiek told reporters.
"This is just a little of what these families need," he said.
As volunteers were distributing food parcels from the trucks, mortar rounds hit near the convoy and sent aid workers scrambling for cover, a reporter there said.
They were able to resume delivery shortly after, with columns of smoke emerging in the cloudy sky overhead.
Eastern Ghouta has been suffering a devastating five-year siege imposed by government troops that has left its 400,000 residents struggling to find food and its hospitals crippled by shortages.
Yesterday's aid operation came after two consecutive days of medical evacuations from Douma, which saw dozens of civilians bused out to receive treatment in Damascus.
Eastern Ghouta was in May last year designated as a "de-escalation zone" — an area where violence is supposed to be tamped down to pave the way for humanitarian assistance and a nationwide truce.
However, Russian-backed government troops have since Feb. 18 pressed a ferocious air and ground campaign in Ghouta that has brought more than 60 percent of the one-time opposition bastion under government control.
The remaining rebel territory has been split into three isolated pockets.
Regime forces have worked to shave off territory from each of those areas, and late on Wednesday they stormed a key town in the southern rebel-held zone.
Syrian troops broke into Hammuriyeh amid heavy bombardment, including nonstop airstrikes and barrel bombs.
A doctor in the area said rescue teams could not get to victims because of the intensity of the bombardment.
"The wounded are on the roads. We can't move them. The warplanes are targeting anything that moves," Ismail al-Khateeb said late on Wednesday.
Yesterday, a fresh bombardment left at least three civilians dead in nearby towns in Ghouta, the Syrian Observatory for Human Rights said.
That brought to 1,249 the total number of civilians — including 252 children — killed in the government's assault on Ghouta.
The observatory said government troops were now in control of the eastern half of Hammuriyeh.
"This is the first time the regime has entered the town in five years," observatory head Rami Abdel Rahman said.
Syrian state TV yesterday broadcast footage from the town and said army troops had moved out dozens of residents who had remained in their neighborhood as it fell to the government.
Women, children and the elderly were seen gathered at a collection point, chanting pro-government slogans alongside Syrian troops.
Comments will be moderated. Keep comments relevant to the article. Remarks containing abusive and obscene language, personal attacks of any kind or promotion will be removed and the user banned. Final decision will be at the discretion of the Taipei Times.