Haitian president calls for probe of aid organizations
Haitian President Jovenel Moise on Friday said that sexual misconduct by staff of British charity Oxfam was only the tip of an "iceberg" and called for investigations into Doctors Without Borders and other aid organizations which came to the country after its 2010 earthquake.
"The Oxfam case is the visible part of the iceberg," Moise said in a telephone interview on Friday. "It is not only Oxfam, there are other NGOs [non-governmental organizations] in the same situation, but they hide the information internally."
The scandal has already shaken the aid sector, with Britain and the EU reviewing Oxfam's funding.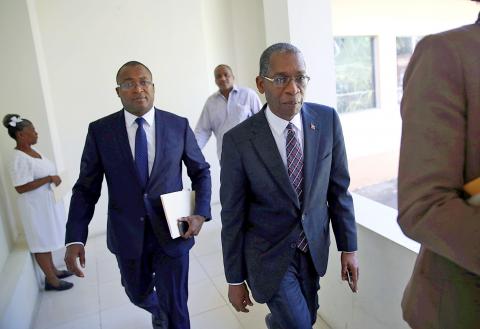 Haitian Minister of Foreign Affairs Antonio Rodrigue, right, leaves after a news conference about the Oxfam scandal at the offices of Planning and Foreign Cooperation Ministry in Port-au-Prince on Thursday.
Photo: Reuters
Oxfam, one of the world's biggest disaster relief charities, apologized this week for unspecified sexual misconduct uncovered in a 2011 internal investigation.
It has neither confirmed nor denied a recent Times of London report that some of its staff paid for sex with prostitutes.
"There should be an investigation into other organizations that have been working here since 2010," Moise said.
"For example, Doctors Without Borders had to repatriate about 17 people for misconduct which was not explained," he added.
Geneva-based Doctors Without Borders is looking into Moise's comments and welcomes scrutiny on the aid sector, its spokeswoman Analia Lorenzo said, adding that the organization had zero tolerance of sexual misconduct.
The group on Wednesday said it had dealt with 24 cases of sexual harassment or abuse among its 40,000 staff last year, and dismissed 19 people as a result.
"We call on the Belgian and UK government to assume their responsibility, and we call on the whole international community to help make sure those guilty of such misconduct are punished, whether they are Belgian or of another nationality," Moise said. "The dignity of the Haitian people has been trampled on."
Haitian Minister of Justice Heidi Fortune on Wednesday said he had asked Belgium for help in starting legal action against Roland Van Hauwermeiren, the former Oxfam official at the center of the scandal.
Belgium's Ministry of Justice on Thursday said it had received no such request and prosecutors said they were not aware of any investigation into Van Hauwermeiren.
Belgium does not extradite its citizens to non-EU countries.
Prostitution is a crime in Haiti, but it was not clear what other crimes the Oxfam officials may have committed.
Comments will be moderated. Keep comments relevant to the article. Remarks containing abusive and obscene language, personal attacks of any kind or promotion will be removed and the user banned. Final decision will be at the discretion of the Taipei Times.