Lai, Tsai and Ko hand out envelopes
ELECTORAL POSITIONING: Visiting temples to convey Lunar New Year wishes is traditional for politicians, but yesterday the Nov. 24 polls were on the minds of many
Premier William Lai (賴清德) yesterday called for fair competition in the Democratic Progressive Party's (DPP) primary for the year-end Tainan mayoral election, as he returned to the city he governed as mayor for almost seven years to extend Lunar New Year greetings and distribute hongbao (紅包), or lucky red envelopes, to residents.
"All aspirants should engage in a gentlemen's competition and secure voters' support by proposing good policies," said Lai, who took office as mayor in December 2010 and served until he was appointed premier in September last year.
Only through a fair fight could the DPP maintain the support and trust Tainan residents have long placed in the party, he said, adding that none of the alleged attacks and smears among the would-be candidates were true.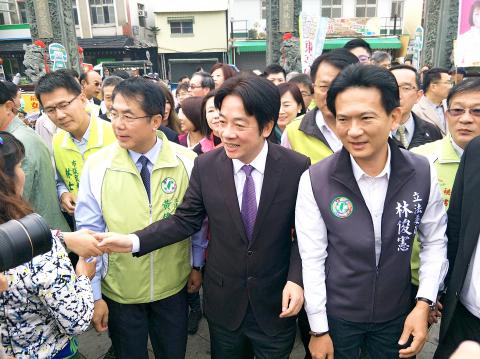 Premier William Lai, center, yesterday greets temple-goers at the Nankunshen Daitian Temple in Tainan.
Photo: Chiu Hao-tang, Taipei Times
Six people have said they will seek the DPP nomination: DPP legislators Huang Wei-che (黃偉哲), Chen Ting-fei (陳亭妃), Yeh Yi-chin (葉宜津) and Wang Ding-yu (王定宇), as well as former lawmaker Lee Chun-yi (李俊毅) and former deputy Tainan mayor Yen Chun-tso (顏純左).
Lai was accompanied by Huang, Chen, Yeh and Yen on his visits to the Kaitai Tianhou Temple (開台天后宮) in Anping District (安平), one of the nation's oldest temples, and the Kuanyin Temple (觀音亭).
Meanwhile, Lunar New Year greetings by politicians in Taipei were also overshadowed by the year-end elections.
Democratic Progressive Party Legislator Pasuya Yao, partially obscured at left, President Tsai Ing-wen, third left, and Taipei Mayor Ko Wen-je, right, yesterday distribute red envelopes to temple-goers at the Baoan Temple in Taipei.
Photo: Peter Lo, Taipei Times
President Tsai Ing-wen (蔡英文), Taipei Mayor Ko Wen-je (柯文哲) and DPP Legislator Pasuya Yao (姚文智) — who has announced his bid for the DPP's mayoral primary in the capital, visited Baoan Temple (保安宮) in the Dalongdong (大龍峒) area to hand out red envelopes.
Ko, an independent seeking re-election, was kept at a distance from Tsai and Yao, triggering renewed speculation as to whether the DPP intends to field its own candidate in the mayoral race, or endorse Ko again to consolidate the pan-green camp's support base.
Ko declined to respond when reporters asked if he felt Tsai was playing favorites with Yao.
The Lunar New Year holiday was a time for "nice words" only, he said.
Asked the same question, Yao responded: "What do you think?"
He did not need anyone to play favorites because unity was what mattered, the lawmaker said.
The nine-in-one elections on Nov. 24 will see voters choose the mayors and city councilors in the six special municipalities, mayors and councilors in other cities, Aboriginal district representatives and councilors, county commissioners and councilors, township mayors and councilors, and borough and village wardens.
Comments will be moderated. Keep comments relevant to the article. Remarks containing abusive and obscene language, personal attacks of any kind or promotion will be removed and the user banned. Final decision will be at the discretion of the Taipei Times.