Seoul court jails Park's friend, Lotte chairman
A confidante accused of collaborating with South Korea's former president for personal gain was yesterday sentenced to 20 years in prison for bribery and other crimes in a political scandal that triggered the nation's first presidential impeachment and the conviction of an heir to the Samsung empire.
The Seoul Central District Court also sentenced the chairman of the Lotte Group, South Korea's fifth-largest conglomerate, to two-and-a-half years in prison for bribery in the same case.
Former South Korean president Park Geun-hye was impeached in March last year and removed from office in disgrace.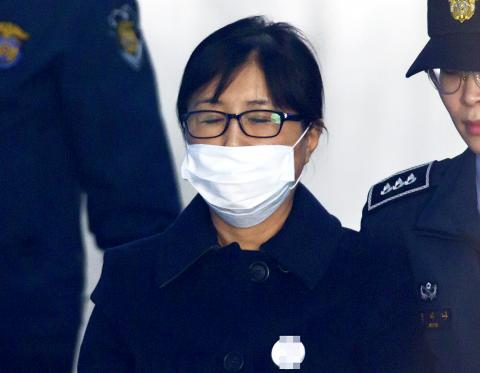 Choi Soon-sil, center, arrives for sentencing in a corruption case linked to ousted former South Korean president Park Geun-hye at the Seoul Central District Court yesterday.
Photo: EPA
She is standing trial on more than a dozen criminal charges, and the case against her close friend could hint at the penalty Park could face if convicted.
The court convicted Choi Soon-sil of abuse of power, bribery and other crimes, and fined her 18 billion won (US$17 million).
She left the courtroom quietly after the sentencing without showing any emotion.
Among her crimes was pressuring major companies to donate large sums to foundations under her control and receiving bribes from Samsung and Lotte.
The court said Choi's crimes were grave given how they led to the impeachment of a president and disappointed the public.
Choi's lawyer, Lee Kyung-jae, said she would appeal.
At her final court hearing in December, Lee called the accusations a complete fabrication by politicians, civic groups, media and politically motivated prosecutors who wanted to overthrow Park's government, according to Yonhap News agency.
In the Lotte case, the court said chairman Shin Dong-bin offered 7 billion won in payments to Choi's foundations to curry favors, such as winning a state license to open a duty-free shop and to strengthen his control over the group.
Lotte has interests in retail, confectionary and many other businesses.
The sentencing sent a shockwave through the South Korean business community, which had been relieved to see an appeals court release Samsung heir Lee Jae-yong from prison last week on a suspended sentence with some of his convictions overturned.
In a third case yesterday, the court sentenced one of Park's former senior aides, Ahn Jong-beom, to six years in prison for abuse of power.
Choi was largely unknown to the South Korean public until a series of revelations in late 2016 disclosed how she allegedly pulled government strings from the shadows, editing presidential speeches and wielding influence over government personnel even though she held no official government position.
She also influenced the college admission process for her daughter, a national equestrian team member who was accepted by a top university in Seoul, enraging the public and helping to spark massive anti-government candlelight rallies.
Choi received a three-year prison term in June last year in a separate case related to influence-peddling in university admissions.
Comments will be moderated. Keep comments relevant to the article. Remarks containing abusive and obscene language, personal attacks of any kind or promotion will be removed and the user banned. Final decision will be at the discretion of the Taipei Times.