'Time to reassess' ban on food items from Japan: Chen
The government might review its ban on food imports from five Japanese prefectures in line with global practice, Minister of Health and Welfare Chen Shih-chung (陳時中) said yesterday.
"It is time to reassess Taiwan's policy on Japanese food imports. The government might follow the US and adopt risk-based restrictions, instead of the current regionally based ban," Chen said.
Food imports from Fukushima, Ibaraki, Tochigi, Gunma and Chiba prefectures have been suspended since shortly after the Fukushima Dai-ichi nuclear power plant disaster in March 2011.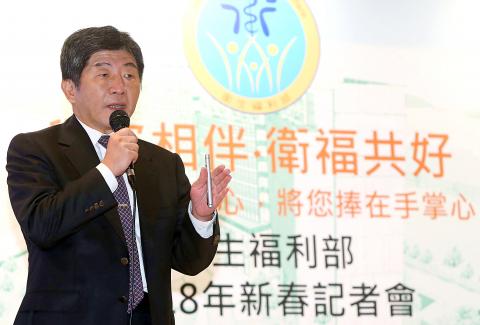 Minister of Health and Welfare Chen Shih-chung yesterday outlines the ministry's five major policy priorities at a news conference at the ministry in Taipei.
Photo: CNA
The government would not allow the entry of radiation-tainted food, but should ease the rules on non-contaminated products, which would be in line with international trade practices, Chen said.
The government must differentiate between "Japanese foods" and "radiation-tainted foods," he said.
If food products from the prefectures are allowed to be imported, the ministry would do everything it can to ensure their safety, "but there is no timetable for that to happen," Chen said.
"Taiwan cannot distance itself from the issue," Deputy Minister of Health and Welfare Ho Chi-kung (何啟功) said. "It is not good to maintain the ban for so many years" when nations worldwide are gradually relaxing their restrictions.
"Some banned food products from the five prefectures are safe," he said, adding that food at Chiba's Narita International Airport might contain ingredients from the prefecture.
Chen and Ho's remarks came just days after Taiwan-Japan Relations Association Deputy Secretary-General Fan Chen-kuo (范振國) said that continuation of the ban might jeopardize the nation's bid to join the Comprehensive and Progressive Agreement for the Trans-Pacific Partnership.
Comments will be moderated. Keep comments relevant to the article. Remarks containing abusive and obscene language, personal attacks of any kind or promotion will be removed and the user banned. Final decision will be at the discretion of the Taipei Times.