Ministry sanctions man suspected of oil sale to N Korea
BANNING ALL TRADE: Taiwan shares a global responsibility for regional security and would not tolerate provocations, the Ministry of Justice said
The Ministry of Justice on Friday slapped sanctions on a local businessman suspected of selling oil to North Korea, banning all financial dealings with him and freezing his companies' bank accounts.
Seoul last month said that it had in November last year detained a Hong Kong-registered ship suspected of transferring oil products to a North Korean vessel and breaching UN sanctions against the nuclear-armed regime.
Prosecutors last week said that a Taiwanese businessman surnamed Chen (陳) was under investigation for making a false declaration that a ship he chartered was bound for Hong Kong when it actually sailed to international waters to sell oil. He was released on bail and has not yet been formally charged.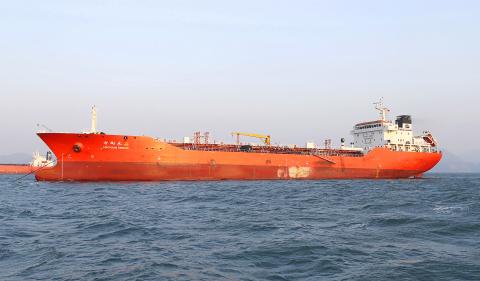 In this Dec. 29, 2017, file photo, the Lighthouse Winmore, a Hong Kong-flagged ship, is seen in waters off Yeosu, South Korea.
Photo: AFP
The ministry on Friday announced sanctions against Chen Shih-hsien (陳世憲) and his solely owned Bunker's Taiwan Group Corp, as well as Billions Bunker Group Corp (比利恩油品集團), both of which are registered offshore.
Two other entities backed by Chen — Oceanic Enterprise Co Ltd and UMC Corp Peru SAC — were also sanctioned under terrorism financing prevention laws.
The sanctions mean the bank accounts and assets of Chen and his affiliated companies are frozen, a ministry document said.
"We share the international responsibility toward regional security and we cannot tolerate any provocation to international security," the ministry said in a statement.
Seoul last month said that Billions Bunker Group had chartered the ship Lighthouse Winmore, which was in November impounded by South Korean authorities after it allegedly transferred 600 tonnes of oil to a North Korean vessel.
Billions Bunker Group is incorporated in the Marshall Islands and cannot be traced directly to Chen, but Taiwanese authorities found him to be the sole shareholder of Bunker's Taiwan Group — incorporated in the British Virgin Islands.
Local media said Chen sold oil products through "a Chinese middleman" and had told prosecutors he did not know they were bound for a North Korean vessel.
The US had asked the UN Security Council to blacklist 10 ships — including the Lighthouse Winmore — for violating sanctions against North Korea.
Taiwan announced in September last year that it was banning all trade activities with North Korea.
Comments will be moderated. Keep comments relevant to the article. Remarks containing abusive and obscene language, personal attacks of any kind or promotion will be removed and the user banned. Final decision will be at the discretion of the Taipei Times.