Residents flee huge California fire
A powerful flare-up on the western edge of Southern California's largest and most destructive wildfire on Sunday sent residents fleeing as wind-fanned flames churned through old-growth brush in canyons and along hillsides toward coastal towns.
Crews with help from a fleet of water-dropping planes and helicopters saved homes as unpredictable gusts sent the blaze deeper into residential foothill areas northwest of Los Angeles that have not burned in decades.
New evacuations were ordered as the fire sent up an enormous plume near Montecito and Carpinteria, seaside areas in Santa Barbara County that had been under fire threat for days and were choked with smoke.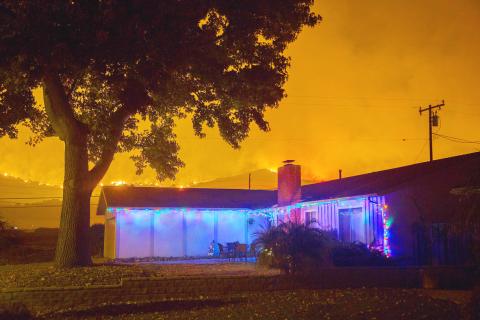 Christmas decorations illuminate a house as the Thomas fire advances toward Carpinteria, California, on Sunday.
Photo: AFP
"The winds are kind of squirrely right now," county fire spokesman Mike Eliason said. "Some places the smoke is going straight up in the air and others it's blowing sideways. Depends on what canyon we're in."
The department posted a photograph of one residence engulfed in flames. It is unclear whether other structures burned.
Thousands of homes in the county were without power.
The air thick with acrid smoke, even residents of areas not under evacuation orders took the opportunity to leave, fearing another shutdown of US 101, a key coastal highway that was closed intermittently last week.
Officials handed out masks to residents who stayed behind in Montecito, the wealthy hillside enclave that is home to celebrities such as Oprah Winfrey, Jeff Bridges and Rob Lowe.
"Our house is under threat of being burned," Ellen DeGeneres tweeted at midday on Sunday. "We just had to evacuate our pets. I'm praying for everyone in our community and thankful to all the incredible firefighters."
Firefighters made progress on Saturday on other fronts of the enormous fire that started on Dec. 4 in neighboring Ventura County.
As other blazes in Los Angeles, Riverside and San Diego counties were further contained, resources from those fires were diverted to the Santa Barbara foothills.
Overall, the fires have destroyed about 800 homes and other buildings, killed dozens of horses and forced more than 200,000 people to flee flames that have burned more than 700km2 since Dec. 4.
The one death so far, a 70-year-old woman who crashed her car on an evacuation route, is attributed to the fire in Santa Paula, a small city where the fire began.
Comments will be moderated. Keep comments relevant to the article. Remarks containing abusive and obscene language, personal attacks of any kind or promotion will be removed and the user banned. Final decision will be at the discretion of the Taipei Times.