Pollution drops or I go: EPA minister
HAZY DECISION: Lee Ying-yuan said he would step down if the number of days when the air quality index signal is red does not drop by 20 percent by his deadline
Environmental Protection Administration (EPA) Minister Lee Ying-yuan (李應元) yesterday vowed to resign next year if air pollution in the nation does not drop by 20 percent by May 20.
At a news conference called to discuss the severe haze that covered the western half of the nation on Wednesday, Lee said the EPA has invested NT$200 billion (US$6.66 billion) to enact 14 policies aimed at ameliorating air pollution.
"While changes cannot be effected overnight, we have seen a gradual improvement," he said.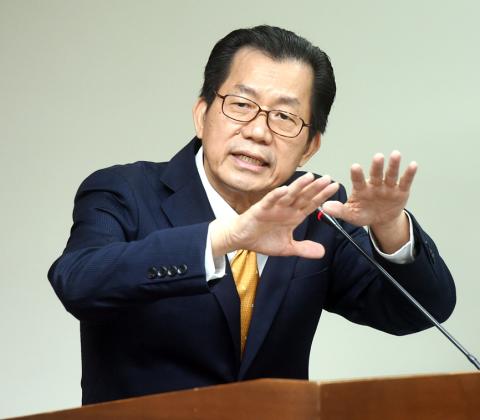 Environmental Protection Administration Minister Lee Ying-yuan gestures at meeting of the legislature's Social Welfare and Environmental Hygiene Committee in Taipei yesterday.
Photo: Chien Jung-fong, Taipei Times
If the number of days when the air quality index signals red — meaning "unhealthy" levels — does not drop by 20 percent, he would take responsibility by tendering his resignation, he said.
The smog over Taipei on Wednesday was a result of pollutants gathered by a low-pressure vortex, Department of Environmental Monitoring and Information Management Director-General Chang Shuenn-chin (張順欽) said.
Department of Air Quality Protection and Noise Control Director-General Tsai Hung-teh (蔡鴻德) said that the agency's contingency actions include issuing an A-level warning over 16 counties and cities, demanding a decrease in chronic pollutant emissions and calling on Taiwan Power Co (Taipower, 台電) to curtail power output.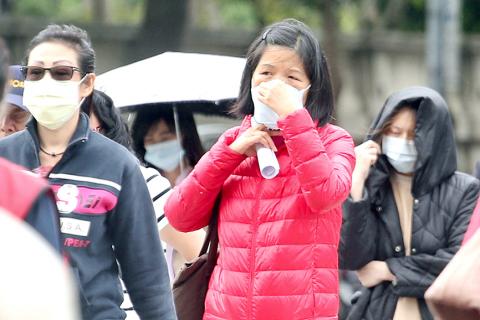 People yesterday wear face masks on a street in Taipei although the air quality had significantly improved since Wednesday.
Photo: CNA
In other developments, Minister of Economic Affairs Shen Jong-chin (沈榮津) yesterday called for a careful evaluation of anti-pollution policies and how they might affect the ability of Taipower to supply electricity.
The Taichung City Government on Wednesday agreed to extend the service life of nine coal-fired generators on the condition that Taipower reduce its coal usage by 24 percent.
Local media reports have also said that Kaohsiung has demanded that Taipower's Singda Power Plant cut its coal usage by 20 percent by March.
Local governments targeting of Taipower's coal usage would affect energy supply across the nation, Shen said, calling on the central and local governments to carefully consider how to balance clean-air and power supply policies.
Local governments must be aware that coal-fired plants are baseload plants and reducing coal usage would necessitate their replacement with combined cycle gas turbine generators, which begs the question of how one would acquire a sufficient supply of natural gas, Shen said, adding that the ministry has asked Taipower to conduct an assessment and suggest contingency measures, Shen said.
The ministry's decision on scaling down its operational energy reserves ratio to 7 percent would depend on the assessment, he said.
Comments will be moderated. Keep comments relevant to the article. Remarks containing abusive and obscene language, personal attacks of any kind or promotion will be removed and the user banned. Final decision will be at the discretion of the Taipei Times.