No evidence of Ching Fu visit: Presidential Office
The Presidential Office yesterday said that after consulting all its records about visitors received by high-ranking officials at the office, it could not uncover any proof that Ching Fu (慶富造船) owner and president Chen Ching-nan (陳慶男) or his son, Chen Wei-chih (陳偉志), met with any officials since May 20 last year.
The office made the statement after the Chinese-language China Times on Tuesday reported that an audio recording has surfaced that alleges that Ching Fu used the office's influence to pressure the Ministry of National Defense to expedite a payment of NT$2.4 billion (US$79.6 million at the current exchange rate) for a scandal-plagued minesweeper project.
The Presidential Office challenged Ching Fu vice president Chen Wei-chih to provide evidence of a meeting he claimed to have had with office officials last year.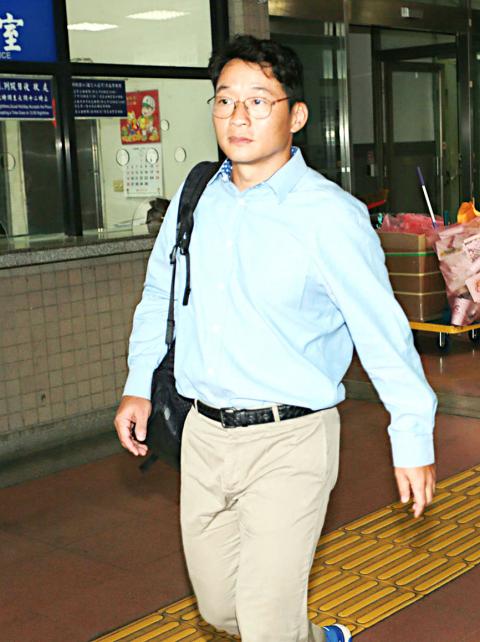 Ching Fu vice chairman Chen Wei-chih yesterday leaves the Kaohsiung District Prosecutors' Office after being questioned about his alleged role in a scandal involving a minesweeper contract.
Photo: CNA
Presidential Office spokesman Sidney Lin (林鶴明) said the office had conducted a thorough inspection of its visitor records dating back to May 20 last year when President Tsai Ing-wen was sworn in and found no information about meetings between Chen Ching-nan or Chen Wei-chih and officials at the office.
The records checked include those of the president, the vice president, the Presidential Office secretary-general and two deputy secretary-generals, the National Security Council secretary-general and three council deputy secretary-generals, Lin said.
The Presidential Office would continue to look into the visitor records of other offices before publishing the results of its investigation, he said.
Chen Wei-chih has a responsibility to the public to name the official he claims to have met, when the meeting occurred and who promised to expedite the payment, Lin said.
The Presidential Office's stance on the issue is clear and all those involved would answer to the judicial system if their actions are proven to be illegal, Lin said.
Meanwhile, Chen Wei-chih told reporters after being questioned at the Kaohsiung District Prosecutors' Office yesterday that the media had misconstrued his "nodding" at reporters on Tuesday after being asked whether he had visited officials at the Presidential Office to discuss a payment.
"I meant to say that I have previously taken a tour of the Presidential Office," he said, before leaving hastily in a taxi.
Comments will be moderated. Keep comments relevant to the article. Remarks containing abusive and obscene language, personal attacks of any kind or promotion will be removed and the user banned. Final decision will be at the discretion of the Taipei Times.