APEC fails to agree on free trade, reboot TPP
Asia-Pacific ministers yesterday struggled to agree on a joint statement on free trade, a rare tussle over a normally routine document that highlights how US President Donald Trump's protectionist "America First" stance is knotting up global trade relations.
World leaders are gathering in the Vietnamese city of Da Nang this week for the annual APEC leaders' summit.
Russian President Vladimir Putin, Trump and Chinese President Xi Jinping (習近平) are among the power players who are attending the 21-member summit — the latter pair due today to give speeches likely to present divergent visions on the future of global trade.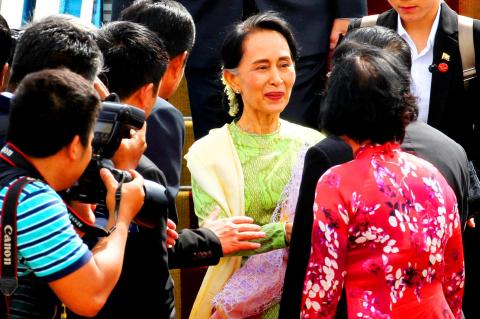 Burmese de facto leader Aung San Suu Kyi, center, arrives at the APEC Summit in Danang, Vietnam, yesterday.
Photo: Reuters
However, even before Trump's expected touchdown today, regional diplomats found themselves in a wrangle sparked by the White House's new policy direction.
Over the past 48 hours trade and foreign ministers had been in talks over issuing a joint statement detailing their common goals, normally something of a formality, but this year they have so far been unable to reach a consensus.
Three diplomatic sources with knowledge of the talks said the cause was US negotiators sticking to their "America First" lines and pushing for more protectionist wording.
"We are now feeling the Trump effect at APEC," one source said, requesting anonymity.
Trump has railed against free-trade deals, describing them as bad for US jobs, and instead favors a rebalanced "fair" trade system — a message he has reiterated in Tokyo, Seoul and Beijing during visits this week.
"The US has concerns about references to free trade and protectionism," a second diplomatic source said.
"It's the same as G20," a third source added, referencing a global gathering of G20 finance ministers in March.
Trump's ascent to the White House has upended years of US-led pushes for more open global trade and lower tariffs.
One of his first moves after taking office was to pull US support for the Trans-Pacific Partnership (TPP) trade deal, a US-led initiative between 12 Pacific nations that deliberately excluded Washington's big regional rival, China.
The remaining 11 nations, which include Japan, Australia, Malaysia and Vietnam, have since struggled to reboot the deal.
China has stepped into the void, portraying itself as the world's global free-trade leader and pushing its own version of the pact.
Ministers from the TPP-11 nations met on the sidelines of the summit, but have made little headway crafting a new deal without access to the US markets.
Malaysian Minister of International Trade and Industry Mustapa Mohamed told local media that there were "many contentions" remaining.
"At one stage we consider it is difficult for the TPP to be revived, but some countries led by Japan feel that TPP-11 is still worth it," Mohamed said.
Much of the talk at APEC has centered around populist winds opposed to free trade, especially in the US and Europe.
"There's a lot of sentiment for deglobalization, but I don't see any alternative," World Bank East Asia and Pacific Department vice president Victoria Kwakwa told delegates.
Globalization, she said, "has really brought unprecedented economic prosperity globally," including helping to double global GDP between 1990 and 2015, and lift 1 billion people out of poverty over the same period.
Comments will be moderated. Keep comments relevant to the article. Remarks containing abusive and obscene language, personal attacks of any kind or promotion will be removed and the user banned. Final decision will be at the discretion of the Taipei Times.