Qualcomm fined NT$23.4bn by FTC
ANTITRUST: The US chipmaker was ordered to terminate contracts with competitors that include sensitive information, as well as exclusionary deals that involve discounts
Qualcomm Inc, the world's biggest handset chip supplier, was yesterday handed a NT$23.4 billion (US$774 million) fine by the Fair Trade Commission (FTC), which found that it had unfairly manipulated prices and hampered market competition.
It is another in a series of setbacks for the US chipmaker amid growing scurrility about its business practices in Asia and Europe.
The company was fined 1.03 trillion won (US$910.2 million) by the South Korean competition agency last year and 6.09 billion yuan (US$924.7 million) in 2015 by Chinese antitrust authorities for violation of competition rules.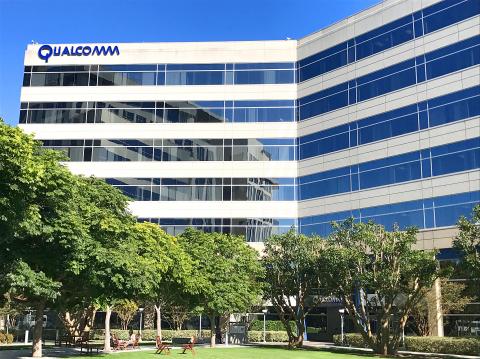 Qualcomm's headquarters in San Diego, US, is pictured on Aug. 18.
Photo: Lo Chien-yi, Taipei Times
Yesterday's fine was the FTC's highest since its inception in 1992.
The commission reached the decision after three years of antitrust investigations into the chipmaker.
Qualcomm was found to have signed exclusionary agreements with Taiwanese chipmakers and mobile phone manufacturers to charge royalty fees and sell chips at prices unfavorable to its clients in a bid to maintain its monopoly, the commission said in a statement.
"The company's practice has harmed competition in the [nation's] baseband market and directly — or indirectly — hindered its competitors from participating in the market," the FTC said.
Qualcomm has monopoly status as it owns a considerable number of patents for code division multiple access (CDMA), wideband CDMA and long-term evolution technologies, the commission said, adding that it has hampered market competition by refusing to license key patents to rivals.
The FTC made the ruling after interviewing more than 20 chipmakers, mobile phone manufacturers and communications equipment suppliers at home and abroad since February 2015.
Qualcomm has been violating antitrust laws for at least seven years, the FTC said.
During that time, the chipmaker has charged royalty fees totaling NT$400 billion and US$30 billion in baseband chip sales from local companies, the statement said.
Qualcomm has been instructed to terminate contracts with competitors that involve sensitive information such as chip prices, sale volumes and product types, the statement said.
It is also required the firm to remove terms and clauses in chip supply contracts signed with handset makers that require the licensing of its patents as a precondition.
Finally, the commission said it has required Qualcomm to cancel all exclusionary agreements it inked with any parties that involve offering price discounts.
Comments will be moderated. Keep comments relevant to the article. Remarks containing abusive and obscene language, personal attacks of any kind or promotion will be removed and the user banned. Final decision will be at the discretion of the Taipei Times.