Lawmakers, expatriates protest UN exclusion
More than 500 Taiwanese took to the streets in New York City on Saturday to protest Taiwan's exclusion from the UN and other international organizations and China's role in blocking Taiwan's efforts to join those bodies.
The protest, organized by the New York-based Committee for Admission of Taiwan to the UN, was joined by a group from Taiwan consisting mainly of members of the Taiwan United Nations Alliance (TAIUNA) and Taiwanese expatriates living in the New York area.
TAIUNA president Michael Tsai (蔡明憲), Democratic Progressive Party legislators Chang Hung-lu (張宏陸) and Yu Wan-ju (余宛如), and New Power Party Legislator Hsu Yung-ming (徐永明) were among the protesters who marched along 42nd Street toward Dag Hammarskjold Plaza, chanting "UN for Taiwan" and "Keep Taiwan Free."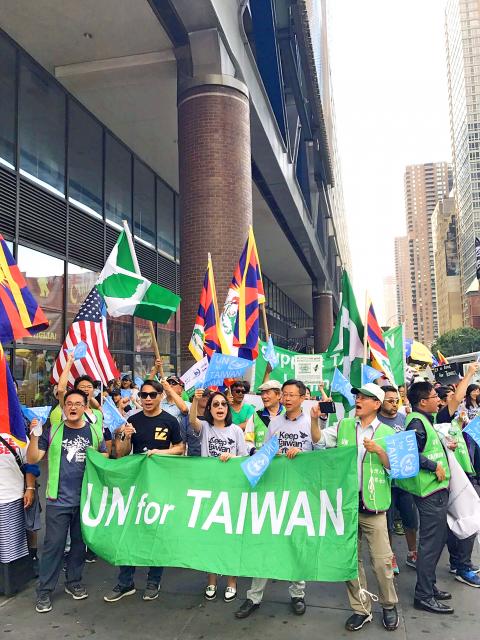 Demonstrators calling for Taiwan's entry into the UN rally in New York City on Saturday.
Photo courtesy of the Taiwan United Nations Alliance
"No one should be barred from the UN," Tsai said, adding that even Palestine, a "non-state entity," was able to join the global organization as an observer two years ago, so "why can't Taiwan?"
The protest was held to coincide with the 72nd UN General Assembly, which is being held at the UN headquarters in the city.
Taiwan has tried without success to re-enter the UN since 1993, after losing China's seat to the People's Republic of China in 1971.
Comments will be moderated. Keep comments relevant to the article. Remarks containing abusive and obscene language, personal attacks of any kind or promotion will be removed and the user banned. Final decision will be at the discretion of the Taipei Times.