Colombia's FARC reborn as a 'revolutionary' party
Colombia's FARC former guerrillas on Friday relaunched as a political party, changing their logo of rifles for a red rose after disarming to end a half-century of civil conflict.
The new party will have a "broad character, a new party for a new Colombia," the group's former military commander Pablo Catatumbo told a news conference.
It will be a movement "committed to guarantee social justice, peace, sovereignty and agrarian reform, for the defense of popular interests," he said.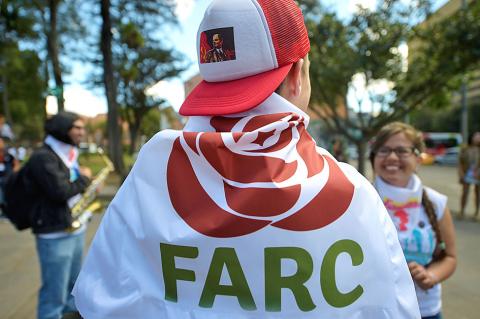 A FARC supporter wears the new logo of the former militant group, which was transformed into a Colombian political party in Bogota on Friday.
Photo: AFP
FARC leader Rodrigo Londono on Thursday announced the name of the new party: the Common Alternative Revolutionary Force.
The name controversially retains the same acronym and the revolutionary spirit of the communist guerrilla group, which fought a bloody 52-year campaign against the state before signing a peace deal last year.
Demobilized and renamed, the party now faces a struggle for political acceptance in a country scarred by decades of attacks and kidnappings.
FARC delegates spent the week in a founding congress to choose their political representatives.
The choice of name was the other key item on the agenda.
Some FARC leaders wanted to keep the "revolutionary" element, while others favored softening the group's image by dropping it in favor of "new Colombia."
In the end, a majority voted to call it in Spanish Fuerza Alternativa Revolucionaria del Comun, so it will still be known as the FARC for short.
The logo for the new party is a socialist-style red rose with a star in its center above the letters FARC in green.
The former armed group's logo was two crossed rifles under a book.
The FARC acronym is a sensitive point in an already delicate peace process, as many Colombians see it as synonymous with the deaths and suffering of the war.
"It is possible that this name from the start will restrict them to representing only a small sector of the population," sociologist Fabian Sanabria said.
A spokesman for the party said an official English translation for its title would be announced.
Comments will be moderated. Keep comments relevant to the article. Remarks containing abusive and obscene language, personal attacks of any kind or promotion will be removed and the user banned. Final decision will be at the discretion of the Taipei Times.