Taiwanese win four gold, six silver medals
RECORDS BROKEN: In Tamsui, weightlifter Kuo Hsing-chun set a world record in the clean and jerk with a lift of 142kg and also broke a Games record
Taiwan yesterday won four gold medals and six silvers at the Taipei Universiade in roller-skating, taekwondo and weightlifting.
Olympics bronze medalist Kuo Hsing-chun (郭婞淳) last night won a gold in the 58kg weightlifting final after breaking the Universiade record by lifting 107kg in the snatch modality.
She then raised 142kg in the clean and jerk, which set a new world record.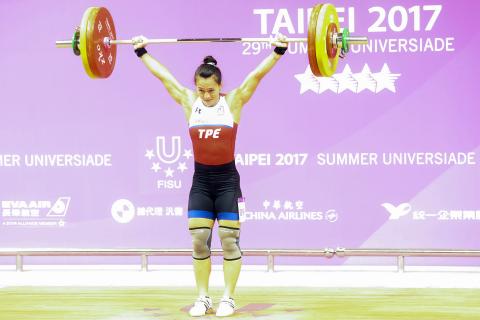 Taiwan's Kuo Hsing-chun yesterday won a gold medal in the women's 58kg snatch event of the Taipei Universiade weightlifting competition in New Taipei City's Tamsui District after setting new records with lifts of 102kg, 105kg and 107kg.
Photo: CNA
Roller skaters Chen Yen-cheng (陳彥成) and Ko Fu-shiuan (柯福軒) began their pursuit of medals yesterday morning by securing a gold (20 points) and a silver (13 points) respectively, in the men's 10,000m points-elimination race.
"I saw many people come into the skating rink before the event began, and I became excited after hearing them cheer for us. I decided that I would meet their expectations," Chen said. "But once the event began I started to focus on executing strategies to win and barely heard the sounds from the sidelines."
Yang Ho-chen (楊合貞) and Lee Meng-chu (李孟竹) clinched the gold and the silver respectively in the women's roller skating 10,000m points-elimination race in the afternoon.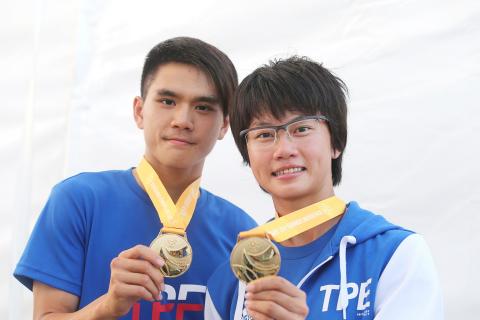 Taiwan's Chen Yen-cheng, left, and Yang Ho-chen yesterday hold up their gold medals after taking first places in the men's and women's 10,000m points-elimination races.
Photo: CNA
Yang said she was able to win the gold because her parents and coach were there to cheer for her and guide her, adding that her victory helped erase all the doubts she had about herself after her lackluster performance in the World Games in Poland earlier this year.
Kao Mao-chieh (高茂傑) won the silver in the men's roller skating 300m time trial race, finishing at 24. 371 seconds.
Taiwan's top speed skater, Sung Ching-yang (宋青陽), who was thought to have a good chance of winning gold in the event, fell to sixth place in the final due to an error committed at the curve, finishing in 24.939 seconds.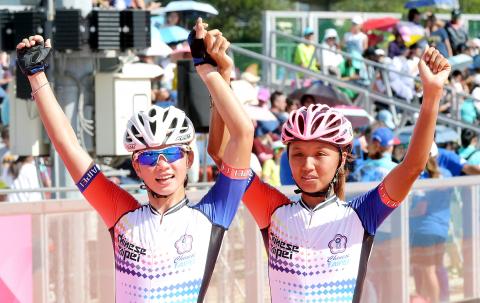 Taiwan's Yang Ho-chen, left, and Lee Meng-chun perform a victory lap yesterday after coming first and second in the Summer Universiade roller sports women's 10,000m points-elimination race in Taipei.
Photo: Chang Chia-ming, Taipei Times
Chen Ying-chu (陳映竹) won silver after the 300m final was delayed about an hour by rain, finishing in 25.828 seconds.
Lee Cheng-gang (李晟綱) and Su Chia-en (蘇佳恩) beat their South Korean opponents to clinch the nation's first gold in taekwondo in the Universiade in mixed pair poomsae.
Athletes competing in the men's and women's team poomsae won two more silvers.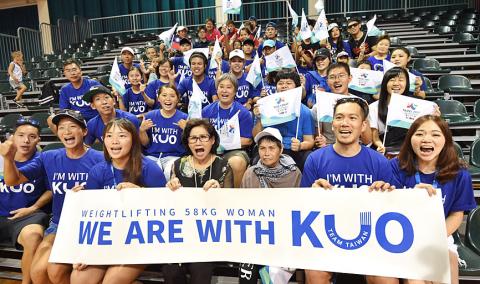 Family members and supporters of Kuo Hsing-chun cheer her on yesterday at the Universiade women's weightlifting competition in New Taipei City's Tamsui District.
Photo: Liu Hsin-de, Taipei Times
Other Taiwanese made progress in their preliminaries.
Lee Ya-hsuan (李亞軒) beat Brazilian Leticia Nayara Moura in two straight sets to move into the third round of women's singles tennis.
Men's singles tennis player Lee Kuan-yi (李冠毅) also cruised to the third round by beating Italian Marco Micunco.
The women's volleyball team, formed by top players from the National Taiwan Normal University, the University of Taipei and Cheng Hsiu University, defeated the French national team in straight sets (25-23, 25-17 and 25-18) in their first win in the preliminary competition.
Taiwan's men's basketball team beat Hungarian national team 75-61.
The men's soccer team suffered its second loss in the preliminaries, falling to France 0-1.
As of press time, the men's volleyball team was down 0-1 against the US.
Comments will be moderated. Keep comments relevant to the article. Remarks containing abusive and obscene language, personal attacks of any kind or promotion will be removed and the user banned. Final decision will be at the discretion of the Taipei Times.