President, premier pledge electricity supply stability
SECURITY While the power outage was caused by human error, drills held earlier this month showed the vulnerability of the system to intentional harm
President Tsai Ing-wen (蔡英文) and Premier Lin Chuan (林全) yesterday apologized for Tuesday's massive blackouts, while Vice Minister of Economic Affairs Shen Jong-chin (沈榮津) has been appointed to succeed outgoing Minister of Economic Affairs Lee Chih-kung (李世光).
"On behalf of the government, I apologize for the inconvenience and concerns caused by the power outage. The incident should not have occurred at all," Tsai said ahead of a Democratic Progressive Party Central Standing Committee meeting.
"Power supply is not simply an issue that affects people's lives, but is a matter of national security," she said.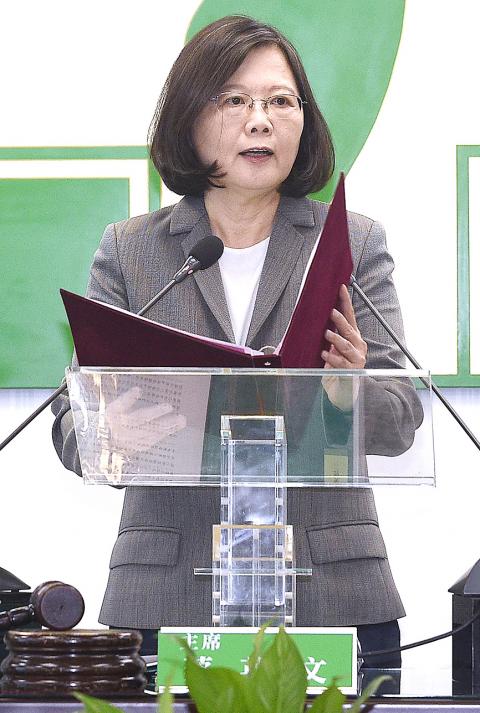 President Tsai Ing-wen yesterday apologizes to the public at the Democratic Progressive Party's headquarters in Taipei for the nationwide blackouts on Tuesday.
Photo: Chen Chih-chu, Taipei Times
The nation is running on a vulnerable power system that can be easily paralyzed by a natural disaster or human error, so it is the government's top priority to re-examine and reinforce the nation's infrastructure to ensure supply stability, but few efforts were made to improve grid reliability over the years, Tsai said.
The government has learned more about the importance of protecting basic infrastructure during a three-day drill this month to test security for political and military leaders in an emergency, and she ordered the government to reform the security measures of basic infrastructure to prepare for conflict scenarios, Tsai said.
"The outage tells us that improving grid security and building a distributed, renewable generation system is urgent and correct," Tsai said, reaffirming the energy transition objectives of her administration.
Meanwhile, Lin also delivered an apology in an Executive Yuan news conference and announced that Shen has been named acting minister after Lee tendered his resignation immediately after the blackouts.
Shen had also tendered his resignation, but it was decided that he should stay and lead the ministry through the transition period, Lin said.
"The incident was caused purely by human error. It is apparent there are grave mistakes with our management system," Lin said.
"The blackouts, preceded by the shutdown of Ho-Ping Power Plant [in Hualien] due to a typhoon, should not be considered an isolated incident. The whole series of events necessitates a complete re-examination of the nation's power supply structure," Lin said.
The Cabinet is to form an external task force to investigate state-run oil refiner CPC Corp, Taiwan (CPC, 台灣中油), whose mismanagement of a natural gas supply system appeared to have caused the power disruption, and Taiwan Power Co (Taipower, 台電), Lin said.
The task force, which would likely consist of international specialists, would examine the national power system and put forward improvement proposals.
While the nation has to move toward a decentralized power distribution system, a secondary, supportive system is needed for major power plants to ensure power grid stability, Lin said.
During the three-day drill, it was found that the infrastructure security measures were "very vulnerable" and could not cope with emergency situations, Lin said.
There is no evidence to suggest the power disruption was deliberately caused, but the government has to prepare for intentional or terrorist attempts to damage power infrastructure, he said.
The phase-out of nuclear power has no bearing on the power outage, because the incident caused the grid to lose about 15 percent of the total supply, which is more than the nation's nuclear capacity.
"The incident is an issue of power grid stability and has nothing to do with nuclear power. They should not be lumped together to obscure the points," he said.
Lawmakers have demanded Lin make a formal report at the Legislative Yuan about the power outage, which Lin said he was willing to do.
Comments will be moderated. Keep comments relevant to the article. Remarks containing abusive and obscene language, personal attacks of any kind or promotion will be removed and the user banned. Final decision will be at the discretion of the Taipei Times.