A day late, ASEAN summit issues its joint communique
Southeast Asian foreign ministers yesterday ended an impasse over how to address disputes with China in the South China Sea, issuing a communique that called for militarization to be avoided and noting concern about island-building.
The South China Sea has long been the most divisive issue for ASEAN, with China's influence looming large over its activities. Some countries are wary about the possible repercussions of defying Beijing by taking a stronger stand.
ASEAN on Saturday failed to issue the customary statement, over what diplomats said was disagreement about whether to make oblique references to China's rapid expansion of its defense capabilities on artificial islands in disputed waters.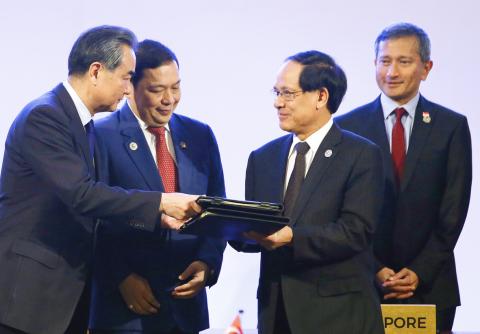 Chinese Minister of Foreign Affairs Wang Yi, left, and Philippine Undersecretary for Foreign Affairs Manuel Teehankee, second left, yesterday hand ASEAN Secretary-General Le Luong Minh, second right, the Memorandum of Understanding on the ASEAN-China Center after a meeting in Manila, as Singaporean Minister of Foreign Affairs Vivian Balakrishan looks on.
Photo: AP
China is sensitive to even a veiled reference by ASEAN to its seven reclaimed reefs, three of which have runways, missile batteries, radars and, according to some experts, the capability to accommodate fighter jets.
The communique issued late yesterday takes a stronger position than an earlier, unpublished draft, which was a watered-down version of one issued last year in Laos.
The agreed text "emphasized the importance of non-militarization and self-restrain."
It said that after extensive discussions, concerns were voiced by some members about land reclamation "and activities in the area which have eroded trust and confidence, increased tension and may undermine peace, security and stability."
ASEAN's deadlock over the statement highlights China's growing influence on the grouping at a time of uncertainty over the new US administration's security priorities and whether it will try to keep China's maritime activities in check.
Several ASEAN diplomats said that among the members who pushed for a communique that retained the more contentious elements was Vietnam, which has competing claims with China over the Paracel Islands (Xisha Islands, 西沙群島) and Spratly Islands (Nansha Islands, 南沙群島) and has had several spats with Beijing over energy concessions.
However, another diplomat said there was no real disagreement on the contents of the communique and stressed that the initial draft was seen by some members as weak.
The ASEAN ministers also mentioned in their 46-page statement a vague reference to an international arbitration ruling last year that invalidated China's historical claims to virtually all of the South China Sea. As in past criticisms, they did not cite China by name.
Earlier in the day, the foreign ministers of ASEAN and their Chinese counterpart, Wang Yi (王毅), adopted a negotiating framework for a code of conduct in the South China Sea, a move they hailed as progress, but was seen by critics as a tactic to buy Beijing time to consolidate its maritime power.
Analysts said the agreement on a framework comes 15 years after a similar document was signed committing the parties to negotiating a code of conduct.
Meanwhile, Japanese deputy Ministry of Foreign Affairs spokesman Toshihide Ando told a news conference in Manila that his government was gravely concerned about China's building of what he called "large-scale outposts" in the South China Sea.
Additional reporting by AFP and AP
Comments will be moderated. Keep comments relevant to the article. Remarks containing abusive and obscene language, personal attacks of any kind or promotion will be removed and the user banned. Final decision will be at the discretion of the Taipei Times.