Legislative Yuan 'forgives' intern
ETHICAL FAILURE: Legislative Yuan Secretary-General Lin Chih-chia said the newspaper has been unapologetic and shifted the blame for the incident onto Han Fu-yu
The Legislative Yuan yesterday said it has chosen to forgive China Times intern Han Fu-yu (韓福宇) and not press charges after he publicly apologized for obstructing legislative proceedings.
However, it banned interns from the newspaper, which it said has been "unapologetic" about being negligent in sending interns to the legislature, for the next two legislative sessions.
On July 19, Han threw water balloons at Democratic Progressive Party lawmakers during a review of budgets for the Forward-looking Infrastructure Development Program, sparking widespread controversy.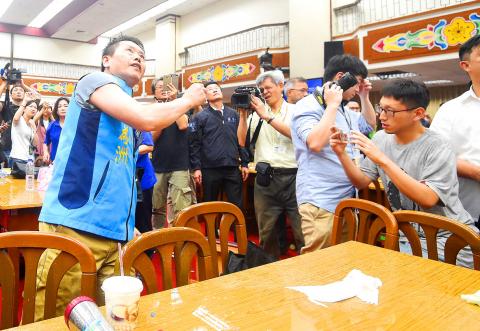 China Times intern Han Fu-yu, right, takes photographs during the conflict at the Finance Committee meeting in the legislature on Monday.
Photo: Liao Chen-huei, Taipei Times
"The legislature represents the people, as do all lawmakers, who exercise civic rights on behalf of the public, and should be respected and protected," Legislative Yuan Secretary-General Lin Chih-chia (林志嘉) said.
The actions of lawmakers in the course of exercising their authority during the legislative process is vital to democracy, he added.
"No one should infringe upon that authority, which is why it is necessary that the legislature's integrity be protected," Lin said.
Chang Yi-wen (張怡文), deputy editor-in-chief of the entertainment section of the China Times, and three of the newspaper's interns should be punished, as they did not apply for media permits and were allowed into the Legislative Yuan by Chinese Nationalist Party (KMT) Legislator Hsu Chih-rong (徐志榮) on false pretenses, Lin said.
"Even though the China Times purposefully protected him after the incident, Han — following investigations by the Legislative Yuan and the media that exposed the truth — finally apologized in an interview, saying that he would take responsibility for his actions and asked the public to give him one more chance," Lin said.
The China Times failed to supervise its interns and disregarded regulations on the media in the legislature, he added.
"Since the incident, the newspaper has remained unapologetic and has shifted the blame to Han, which is a breach of journalistic ethics and runs counter to its intent to educate," Lin said.
Starting from the next session, the China Times is to be banned from requesting access for its interns for two sessions, he added.
Quoting Legislative Speaker Su Jia-chyuan (蘇嘉全), Lin said that the Legislative Yuan has chosen to forgive Han for obstructing the legislative process.
"It is the legislative speaker's hope that Han will remember the value of Taiwanese democracy from this experience," Lin said.
Comments will be moderated. Keep comments relevant to the article. Remarks containing abusive and obscene language, personal attacks of any kind or promotion will be removed and the user banned. Final decision will be at the discretion of the Taipei Times.