UN panel agrees to probe Lee Ming-che abduction
A UN human rights panel has agreed to take on a Taiwan-sponsored case for the first time, human rights activists said yesterday.
The UN Human Rights Council's Working Group on Enforced or Involuntary Disappearances (WGEID) has agreed to investigate the abduction of Taiwanese human rights advocate Lee Ming-che (李明哲).
Lee's disappearance in March shortly after entering Guangzhou (廣州) has gained national attention, with China refusing to allow visits or to cooperate with Taiwan in accordance with the Cross-Strait Joint Crime-Fighting and Judicial Mutual Assistance Agreement (海峽兩岸共同打擊犯罪及司法互助協議).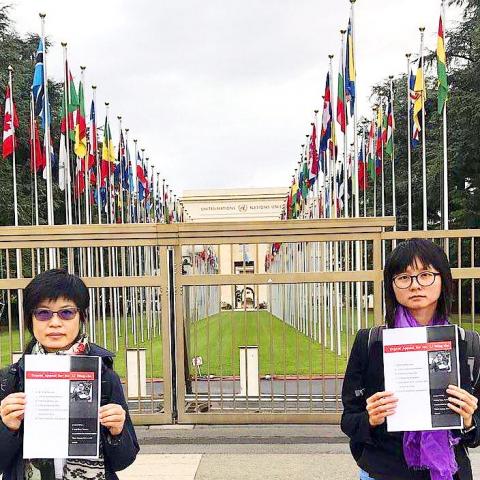 Covenants Watch chief executive officer Huang Yi-bee, left, and Taiwan Association for Human Rights secretary-general Chiu E-ling hold Lee Ming-che leaflets outside the Palace of Nations in Geneva, Switzerland, last month.
Photo: Peng Wan-hsin, Taipei Times
While China has charged Lee with "subversion of state power," his wife Lee Ching-yu (李凈瑜) claims that he was traveling to China to "share Taiwan's experience of democratization" at the invitation of Chinese friends.
Covenants Watch chief executive officer Huang Yi-bee (黃怡碧) said the WGEID agreed to take up the case after several domestic human rights groups applied to the Human Rights Council with permission from Lee Ching-yu.
The WGEID has already asked the Chinese government to provide information about the case and it is awaiting a reply, she said, adding that a formal in-country investigation would only be possible if China agrees.
"This case is special because it represents the first time a case submitted by Taiwan has been officially accepted. There are many cases submitted to the council via the urgent appeals process, but they chose this one, even though to our knowledge there are many cases from Hong Kong which have not received an official reply," she said.
Activists hope the council would address the case in its official annual report and have the opportunity to participate in a working session in September, as long as Lee Ching-yu agrees to move forward, Huang said.
"Participating in the official working session would be a first for Taiwan," she said.
Taiwan Alliance to End the Death Penalty executive director Lin Hsin-yi (林欣怡) said that her alliance had asked the council to investigate the case of death row inmate Chiou Ho-shun (邱和順) in 2011, only to see the case fall by the wayside after the council accepted it, but then asked China <<->> not Taiwan <<->> to provide further information.
"We originally applied because there had been a special rapporteur who had stated he would ask the Taiwanese government for information, but by the time we applied, another rapporteur had already taken over and he chose to ask China <<->> a decision which of course led to no answer," Lin said. "This case is different because Lee is in China's hands, so they will have to answer."
"Lee Ching-yu welcomes the WGEID taking on the case, but we will have a meeting on Friday to decide whether she will attend the September working session in person or send a representative," said Lee Ching-yu's spokesman, Wenshan Community College president Cheng Hsiu-chuan (鄭秀娟).
International human rights groups are also pushing for a European Parliament resolution on the case, Huang said.
"We will visit with the missions of many countries both in Taiwan and Geneva, but there is not a high level of interest in Lee's case," she said, "Many nations are more inclined for a response to be issued by the EU rather than individually, because individual countries are not willing to stand up and oppose China by themselves."
Comments will be moderated. Keep comments relevant to the article. Remarks containing abusive and obscene language, personal attacks of any kind or promotion will be removed and the user banned. Final decision will be at the discretion of the Taipei Times.