China aims to cut Taiwan-HK ties: academic
Beijing is likely to speed up the legislative process to ratify Article 23 of Hong Kong's Basic Law in a bid to "depoliticize" Hong Kong by severing its exchanges with Taiwan, Academia Sinica Institute of Taiwan History associate research fellow Wu Ruei-ren (吳叡人) said yesterday.
Beijing is worried about a "political link" forged by the establishment of the Taiwan Congressional Hong Kong Democracy Watch, which was founded by several Hong Kong lawmakers and nonpartisan Taiwanese legislators, Wu said.
Beijing has shown a tendency to uphold the rule of law in Hong Kong by promulgating strict laws to limit freedoms, Wu said, predicting that Beijing would expedite the legislation to gradually break the ties between Taiwan and Hong Kong.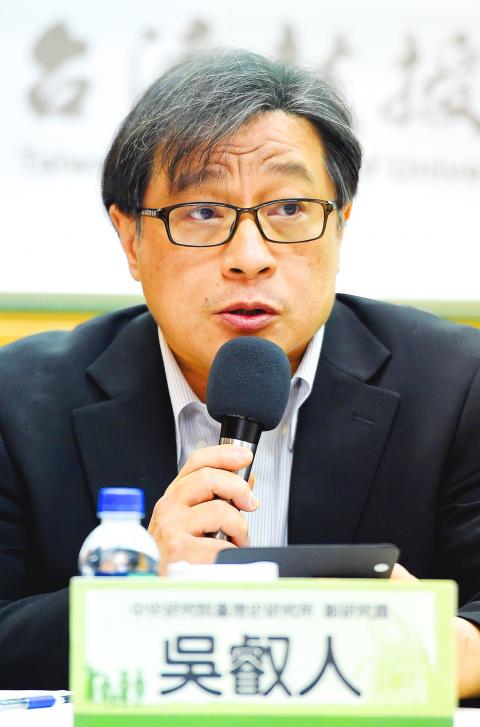 Academia Sinica Institute of Taiwan History associate research fellow Wu Rwei-ren is pictured in Taipei on June 3.
Photo: Liu Hsin-de, Taipei Times
The draft article sets out punishments for Hong Kong residents who commit treason, incite separatism, subvert sovereignty or steal classified information.
If passed, the provision would see Hong Kong subjected to martial law and deprived of its freedoms, Wu said.
The legislation was set in motion in 2002, but was suspended in 2003 after it was met with widespread protests, culminating in a July 1 march that drew 500,000 people.
However, due to growing support for Hong Kong independence and autonomy, Chinese National People's Congress Chairman Zhang Dejiang (張德江), who oversees Hong Kong and Macau affairs, reiterated that special district leaders must fulfill their constitutional obligation to uphold national security, a move that has been interpreted as him pressuring Hong Kong Chief Executive Carrie Lam (林鄭月娥) to resume the legislative process for the article.
The Basic Law used to function like Hong Kong's constitution, but it has failed to uphold the "one country, two systems" framework in recent years, Wu said.
Pro-democracy former Hong Kong lawmakers Yau Wai-ching (游蕙禎) and Leung Chun-hang (梁頌恆) were removed from the Hong Kong Legislative Council following an interpretation of the Basic Law, which said that Beijing has the right to interpret the law, he said.
Beijing views the level of freedom it grants Hong Kong as a necessary aid to the operation of a larger economic framework, but it will depoliticize Hong Kong and focus only on its economic development while retaining a nominal "one country, two systems" framework, Wu said.
Friends of Hong Kong and Macau Association president Andy Chang (張五岳) said that with rising disapproval of Beijing and popular support for independence, it would be unwise for Lam to push ahead with the legislation, as it would likely spark a backlash and again plunge Hong Kong into turmoil, which would draw the attention of the international community.
Former Hong Kong Federation of Students secretary-general Daisy Chen (陳倩瑩) said she is skeptical of the "one country, two systems" framework.
Beijing's strategy for Hong Kong is to gradually assimilate it, like other Chinese administrative regions, she said.
Comments will be moderated. Keep comments relevant to the article. Remarks containing abusive and obscene language, personal attacks of any kind or promotion will be removed and the user banned. Final decision will be at the discretion of the Taipei Times.