There was never 'truce' with Beijing : ministry
WHY NOT? Panamanian President Juan Carlos Varela said he decided to switch recognition to Beijing after witnessing China's economic power during a visit
There was never any true "diplomatic truce" with China, the Ministry of Foreign Affairs said yesterday, after Panamanian President Juan Carlos Varela attributed last week's severing of diplomatic ties with Taiwan to the end of the "cross-strait truce."
"In reality, China's diplomatic offensive has never stopped," ministry spokeswoman Eleanor Wang (王珮玲) said, calling on Panama to avoid being used as a tool by China.
She rejected Varela's claim that he had told President Tsai Ing-wen (蔡英文) and ministry officials in a meeting that Panama would switch recognition to Beijing if the cross-strait "diplomatic ceasefire" ended.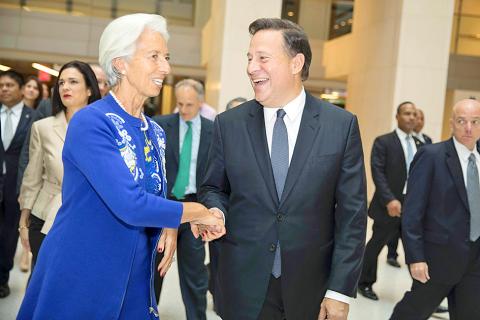 IMF Managing Director Christine Lagarde, left, shakes hand with Panamanian President Juan Carlos Varela at the IMF Headquarters in Washington on Monday.
Photo: AFP
Tsai has advocated maintaining the cross-strait "status quo" since taking office, and the government has fulfilled its responsibility of maintaining peace and stability across the Taiwan Strait, the ministry said, accusing China of using "oppression" and "threats" to shrink the nation's international space.
Interfering with Taiwan's participation in the World Health Assembly and International Civil Aviation Association, and causing diplomatic allies to break off ties have damaged the peace and stability of the "status quo," it said.
Although Panama and Taiwan have a good relationship, establishing relations with China was "the right thing to do," given the end of the cross-strait "diplomatic truce," Varela told the Inter-American Dialogue, a Washington-based think tank, on Wednesday.
He described the "diplomatic truce" and increased cross-strait exchanges during former president Ma Ying-jeou's (馬英九) time in office as a "success story," which had suddenly changed.
Varela said he advised Tsai and other Taiwanese officials to ease cross-strait tensions during their visit to Panama last year, and that he told them: "If the diplomatic truce ends, Panama will switch recognition."
Sao Tome and Principe switching recognition to Beijing last year caused him to conclude that the diplomatic truce had ended, Varela said, adding that he immediately initiated negotiations with Beijing.
Panama "did not demand anything" in exchange for switching recognition, he said.
He had decided that Panama should turn to Beijing after China impressed him with its "economic might" during a trip in 2007.
"Why should we not switch Panama's diplomatic recognition?" he said, citing substantial Chinese investment and construction projects in his nation.
Varela said he notified the US of the switch three or four hours prior to his televised announcement and that Panama "did not need consent from anyone."
Taiwan was reportedly notified only 40 minutes before the announcement.
Comments will be moderated. Keep comments relevant to the article. Remarks containing abusive and obscene language, personal attacks of any kind or promotion will be removed and the user banned. Final decision will be at the discretion of the Taipei Times.