Cabinet retorts as How criticizes upgrade scheme
Publisher and former national policy adviser Rex How (郝明義) yesterday called for a public debate with Premier Lin Chuan (林全) over the government's Forward-looking Infrastructure Development Program, whose review process he said lacked in transparency, while the Executive Yuan criticized How for "stigmatizing" the plan with false accusations.
A signature drive launched by How and a group of campaigners to petition for an open debate on the NT$882.49 billion (US$29 billion) project has collected more than 5,000 signatures, and How yesterday invited Premier Lin Chuan (林全) to debate the project with experts.
The government has failed to explain its plans in detail and in the program's official document a description of just 313 characters was provided for an MRT project in Kaohsiung that would cost NT$145.47 billion, How said.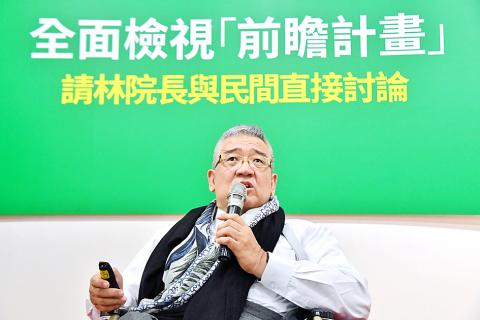 Former national policy adviser Rex How speaks at a news conference in Taipei yesterday, inviting Premier Lin Chuan to engage in a public debate over the Forward-looking Infrastructure Development Program.
Photo: CNA
A draft act on the program received the approval of a legislative committee, but not a single word of the act was modified, How said.
In the next phase of the legislative review, the draft is to be discussed at cross-caucus negotiations, a process criticized for its lack of transparency, so a public debate with the premier is needed to ensure transparency and sufficient discussion, How said.
At a meeting last month, How asked Lin to report to the legislature during the extraordinary legislative session, but Lin refused, saying it would "disrupt the [legislative] system" and his report would be "obstructed by opposition parties."
He invited Lin to take part in a televised debate, where there would be no interference from opposition parties, How said.
The Forward-looking Infrastructure Development Program does not exclude the possibility of large-scale expropriations, despite Lin promising no such actions would be taken, New Power Party Executive Chairman Huang Kuo-chang (黃國昌) said, adding that the premier should answer doubts raised regarding the project.
Meanwhile, Executive Yuan spokesman Hsu Kuo-yung (徐國勇) said the official document of the project is a 370-page report with detailed descriptions of each infrastructure project, but How had cited a simplified version to create a false impression and "stigmatize" the plans.
The premier would not dodge public scrutiny and would report to the Legislative Yuan when the plan's budget proposals are being reviewed, but not when the draft act for the project is being reviewed, Hsu said.
Only two MRT projects involve large-scale expropriations — an MRT line in New Taipei City's Sindian District (新店) and another in Taoyuan — but those projects and the expropriations were approved prior to the program, Hsu said.
No large-scale expropriation is required for other infrastructure projects, he said.
Cross-caucus negotiation is a formal legislative discussion with review functions, Hsu said, calling on critics of the plan to be rational when debating the project.
Comments will be moderated. Keep comments relevant to the article. Remarks containing abusive and obscene language, personal attacks of any kind or promotion will be removed and the user banned. Final decision will be at the discretion of the Taipei Times.