OCAC officials chided for China unification meeting
CHOICES A meeting with the Chinese affairs office deputy director was the decision of a few expatriates, and not the norm for overseas Taiwanese, the OCAC vice minister said
Lawmakers yesterday asked the Overseas Community Affairs Council (OCAC) to remove officials who "disgraced the nation" last month when they reportedly met with Chinese officials at a gala to promote the unification of Taiwan and China.
Former OCAC minister Wu Ying-yih (吳英毅), OCAC members Wang Wei (王維) and Chou Shem-mong (周賢孟) and nine other council advisers on May 25 led a group of Taiwanese-Americans to China to meet with Overseas Chinese Affairs Office (OCAO) Deputy Director Tan Tianxing (譚天星), Democratic Progressive Party (DPP) lawmakers told a news conference yesterday.
The meeting, attended by Taiwan Benevolent Association of America (全美台灣同鄉聯誼會) members, was featured on Chinese government Web sites, with Tan telling the visitors that "a complete unification of the motherland is a shared hope of Chinese people in China and overseas."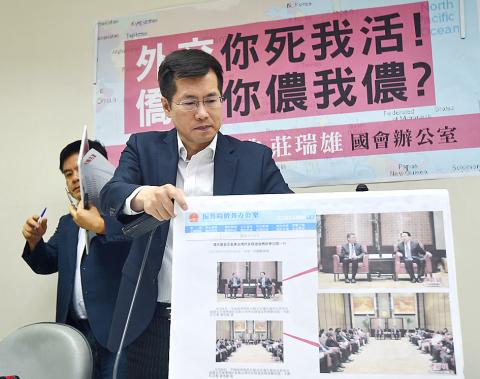 Democratic Progressive Party legislators Lo Chih-cheng, right, and Chuang Ruei-hsiung hold a news conference yesterday at the Legislative Yuan in Taipei.
Photo: Chien Jung-fong, Taipei Times
"When the nation is in a life-and-death struggle diplomatically, they are seeing eye to eye" with China, DPP Legislator Lo Chih-cheng (羅致政) said.
The nine OCAC advisers are working in non-paid, honorary positions at the council, Lo said.
Wang and Chou, who are based in the US, were subsidized by the government to participate in the Global Conference on Overseas Compatriot Affairs in Kaohsiung last month, but they also and visited China, which Lo said amounted to abusing taxpayers' money.
There used to be a three-year travel restriction on China-bound visits by minister-level officials, including OCAC ministers.
However, Wu shortened the restriction to one year during his term, which Lo said was aimed at facilitating his visits to China.
Lo asked the OCAC to extend the restriction period to three years or more to prevent council officials, who have access to confidential information, from visiting China.
DPP Legislator Chuang Ruei-hsiung (莊瑞雄) said the timing of the visit coincided with the government's bid to seek participation in the World Health Assembly, which was obstructed by Beijing, and that the OCAC officials were acting against the government's efforts.
Wang, Chou and other OCAC advisers were appointed by former president Ma Ying-jeou's (馬英九) administration.
Chuang asked that the council dismiss them immediately.
The council was given advance notice of the visit, but was unable to prevent it despite OCAC Minister Wu Hsin-hsing's (吳新興) personal attempt to dissuade the members, OCAC Vice Minister Roy Yuan-Rong Leu (呂元榮) said.
The visit was the individual action of some overseas Taiwanese rather than a regular pattern of behavior of the overseas community, Leu said.
The council would take disciplinary measures against the visiting members to prevent such "disorderly behavior," he added.
Comments will be moderated. Keep comments relevant to the article. Remarks containing abusive and obscene language, personal attacks of any kind or promotion will be removed and the user banned. Final decision will be at the discretion of the Taipei Times.