'Mixed' rating for Tsai's policies
AMCHAM REPORT: The 'Taiwan White Paper' said genetically modified fresh produce should be allowed in school meals and urged further reform of the financial sector
The American Chamber of Commerce in Taipei (AmCham) yesterday released its Taiwan White Paper, characterizing President Tsai Ing-wen's (蔡英文) Democratic Progressive Party (DPP) administration's policy initiatives over the past year as a "mixed bag" of successes and disappointments.
The AmCham commended the government for improving regulatory coherence by adopting a 60-day notice and comment period, and for taking steps to promote innovative industries.
However, AmCham Taipei chairman Albert Chang (章錦華) said that the new "one fixed day off, one flexible rest day" policy is a step backward in Taiwan's aim to transform its industries, as the scheme is better suited to manage "old economy" factory workers and moves away from ongoing efforts — such as the "five plus two" innovative industries plan for an "Asian Silicon Valley," "intelligent" machinery, "green" energy technology, biomedicine and national defense, as well as a new agricultural business model and a circular economy — to promote services and knowledge-based industries.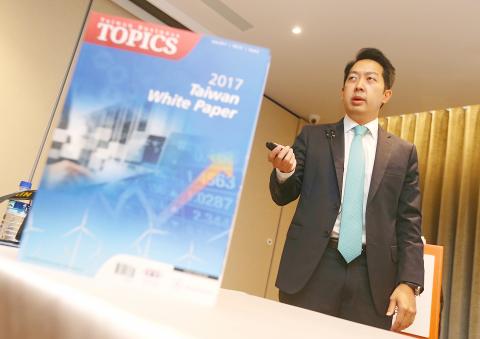 American Chamber of Commerce chairman Albert Chang speaks during a presentation on the organization's Taiwan White Paper at a news conference in Taipei yesterday.
Photo: CNA
The new labor rules bring needless obstacles to the workings of fledgling start-ups, whose engineers require the flexibility to balance lulls and overtime, Chang said, adding that the prescriptive policy is not ideal.
The National Development Council's Asian Silicon Valley initiative might be overly focused on hardware and funding, while neglecting education and the development of a "start-up culture," Chang said.
The white paper also encouraged the nation to enter into negotiations for bilateral trade agreements with the US following Washington's exit from the Trans-Pacific Partnership.
The report said that while US President Donald Trump is opposed to multilateral trade blocs, he is not against bilateral free-trade agreements, which the AmCham said is a feasible path toward bolstering economic ties between the two sides.
However, negotiations on free-trade deals would depend on Taipei's willingness to make concessions on importing US pork and beef, AmCham said.
As US pork and beef products already meet stringent international guidelines, the concessions should be deemed acceptable by the public, it said.
Taiwan should allow the use of genetically modified fresh produce in school meals, the paper said.
The paper urged financial regulators to base commissions on fund sales by distributors on an assets under management (AUM) scheme, as the current transaction amount-based system incentivizes distributors to frequently churn funds.
Consequently, Taiwanese investors have been treating metal funds more like stocks, looking for short-term gains while paying high front-end fees to distributors.
Other adverse effects include large redemptions after initial public offerings for new funds, which affects long-term investors' net asset value, as well as increasing difficulties in investment management, as volatility rises with frequent trading, the document said.
In a separate news conference, the Financial Supervisory Commission said that although the AUM scheme has been widely adopted in developed markets across the world, it was still awaiting consensus from industry associations, as many institutions have been affected by declining profits from wealth-management products.
Comments will be moderated. Keep comments relevant to the article. Remarks containing abusive and obscene language, personal attacks of any kind or promotion will be removed and the user banned. Final decision will be at the discretion of the Taipei Times.