China confirms activist's detention
The Mainland Affairs Council (MAC) yesterday denounced Beijing's detention of Taiwanese human rights and democracy advocate Lee Ming-che (李明哲), after China's Taiwan Affairs Office confirmed that he is being investigated over "alleged involvement in activities that threaten [China's] national security."
Lee, a former Democratic Progressive Party (DPP) staffer who works at Wenshan Community College in Taipei, went missing after entering China via Macau on March 19.
Lee is "in a good physical condition," China's Taiwan Affairs Office spokesperson Ma Xiaoguang (馬曉光) told a news conference in Beijing.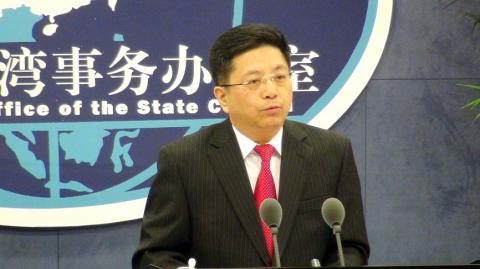 China's Taiwan Affairs Office spokesman Ma Xiaoguang yesterday tells as news conference in Beijing that Taiwanese college lecturer and former Democratic Progressive Party employee Lee Ming-che is being detained "on suspicion of endangering national security."
Photo: CNA
Asked whether Lee's wife would be permitted to visit her husband on humanitarian grounds, Ma said only that the office is aware of his family's appeals.
Ma did not disclose the location of Lee's detention, saying that he had told reporters everything he knew.
Ma said that the rights of Taiwanese who enter China to "conduct normal activities" would be protected.
"Mainland China is ruled by law. Our Taiwanese compatriots can rest assured that we will not willfully restrict the freedom of Taiwanese," Ma said.
The Mainland Affairs Council in a statement expressed its deep regret over Beijing's decision not to notify Taiwanese authorities or provide details about Lee's detention.
"Beijing should immediately inform the public about where Lee is being detained, what law he has breached, and other details regarding his personal freedom," the council said.
The council also urged Beijing to officially report the case to Taipei, and allow Lee's family and lawyer to visit in accordance with the Cross-Strait Joint Crime-Fighting and Judicial Mutual Assistance Agreement (海峽兩岸共同打擊犯罪及司法互助協議).
As Lee's case has attracted a high level of public attention, Beijing should properly handle the case and quickly respond to demands by Taipei authorities and Lee's family, in order to avoid affecting complex and sensitive cross-strait relations, the council said.
Meanwhile, DPP Legislator Chao Tien-lin (趙天麟), who heads the party's Department of Chinese Affairs, denounced Beijing for its arrest of a Republic of China citizen without any plausible reasons and without notifying Taiwanese authorities.
"It certainly took the Taiwan Affairs Office a long time to come out and say something, but when it did, its explanation was not only vague, but also failed to explain why Lee was arrested and whether the process was legal," Chao said.
The DPP caucus has urged the Chinese government to ensure Lee's visitation rights and grant him access to a lawyer.
China has violated the Cross-Strait Joint Crime-Fighting and Judicial Mutual Assistance Agreement by withholding information about Lee's detention, despite repeated requests from the Mainland Affairs Council and the Straits Exchange Foundation, DPP Legislator Yeh Yi-chin (葉宜津) said.
DPP Legislator Lee Chun-yi (李俊俋) has called on government agencies to involve themselves in rescuing Lee Ming-che and pressure China to abide by the agreement.
The Mainland Affairs Council and the Straits Exchange Foundation have been working on the case, but the former is concerned that Beijing might fabricate charges if Taipei exerts too much pressure, Lee Chun-yi quoted an anonymous council official as saying.
Additional Reporting by Chen Wei-han
Comments will be moderated. Keep comments relevant to the article. Remarks containing abusive and obscene language, personal attacks of any kind or promotion will be removed and the user banned. Final decision will be at the discretion of the Taipei Times.