Three foreigners get five years each over ATM theft
The Taipei District Court yesterday sentenced three eastern Europeans men to five years in prison each over last year's theft of NT$83.27 million (US$2.66 million at current exchange rates) from First Commercial Bank's (第一銀行) automated teller machines (ATMs).
Andrejs Peregudovs, 41, of Latvia, Niklae Penkov, 34, of Moldova, and Mihail Colibaba, 30, of Romania, were also fined NT$600,000 each.
A European-based crime ring had implanted malware to hack into First Commercial Bank's ATM network in London, and the three were among 22 foreigners from six countries who came to Taiwan in July last year to withdraw money from the ATMs.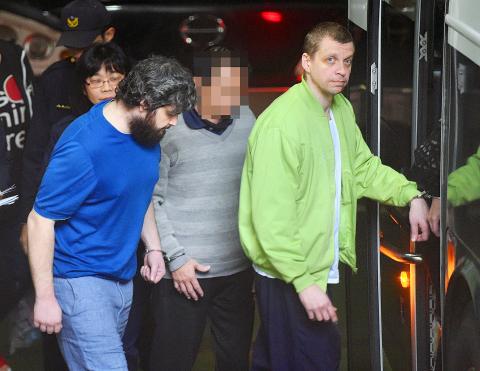 Mihail Colibaba of Romania, left, and Andrejs Peregudovs of Latvia, left, return to the Taipei Detention Center in New Taipei City yesterday after the Taipei District Court sentenced them each to five years in prison and a fine of NT$600,000 for stealing from First Commercial Bank ATMs last year.
Photo: Liao Chen-huei, Taipei Times
The other 19 fled the country and have been put on a wanted list, prosecutors said.
The ruling said that once the three have served their jail terms, they will be deported back to their home countries.
As it was the first ruling, the verdicts can be appealed.
The trio, who have been detained by police in Taiwan since their arrest on July 17 last year, were charged with fraud and cybersecurity offenses, said the Taipei District Prosecutors' Office, which sought a 12-year prison term for each man.
Presiding judge Liao Chien-yu (廖建瑜) said that 41 ATMs at 22 First Commercial Bank branches were hacked, with the 22 suspects stealing a total of NT$83.27 million between July 9 and July 11.
Police have recovered NT$77.48 million.
The trio were taken to court yesterday to hear the sentencing. Penkov and Colibaba did not show much emotion on hearing the sentence, while Peregudovs tilted his head back in apparent disappointment.
Speaking through a court interpreter, the three asked when they could file an appeal.
Legal experts said that while prosecutors had asked for a heavier punishment, the court handed down a lighter sentence because the three acted as money collectors and were not the masterminds.
Liao said international alerts had been issued for the arrest of the 19 others implicated in the theft, including Sergey Berezovskiy, Vladimir Berkman, Gaik Manukian, Oxana Sarkisova and Adiian Kamo of Russia; and Oleg Malic, Ion Secrieru, Igor Valicoglo and Alexandru Arsenii of Romania.
First Commercial Bank officials said they would file for the return of the recovered NT$77.48 million.
As for the missing NT$5.79 million, authorities said it had most likely been taken out of the country by other members of the gang.
Comments will be moderated. Keep comments relevant to the article. Remarks containing abusive and obscene language, personal attacks of any kind or promotion will be removed and the user banned. Final decision will be at the discretion of the Taipei Times.