Taiwanese made rifle parts to be sold in US: report
A contract has reportedly been signed with US arms importer Wolf Performance Ammunition for Taiwanese-made T91 upper receivers, or "uppers," ammunition and other parts for the assult rifle to be sold in the US, according to a report on the Firearm Blog.
While the Ministry of National Defense declined to comment on the issue, Wolf Ammunition posted several test-fire videos on YouTube and other video platforms of the uppers attached to various lower receivers.
The T91 carbine was researched and manufactured by the ministry's Armaments Bureau and has been standard issue for the Taiwanese Army.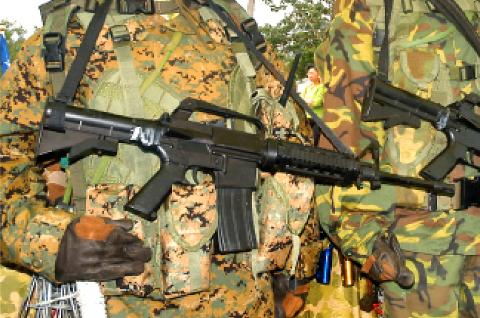 Taiwan-made T91 assault rifles are displayed on mannequins in Hualien County on Oct. 23, 2012.
Photo: Yu Tai-lang, Taipei Times
One thousand initial sets of the uppers are to be delivered to Wolf Ammunition over the next few years, with subsequent sales pending the popularity of the Wolf A1 carbine in the US, sources said.
The Wolf A1 — which can be used for sports or hunting — uses the T91 uppers.
The Regulations on Sales of Ministry of National Defense Produced Industry or Technology (國防部科技工業機構產品銷售辦法) state that the ministry's technological products are separately categorized as class A, B or C, with class A requiring Executive Yuan approval for sale, class B hardware requiring a report to be submitted before approval for sale, while class C products can be approved by the manufacturer with a report submitted to the supervisors for reference.
Democratic Progressive Party Legislator Tsai Shih-ying (蔡適應) said the deal was reached because the US National Rifle Association received the approval of the US government prior to finalizing the deal.
According to sources, the government is unwilling to be labeled as an "arms-exporting nation" due to international politics, adding that the regulations on arms exports mean only the uppers and other primary components, such as bolts, are sold.
Sources said that exporting the uppers might also be due to restrictions imposed by the US National Firearms Act.
The source said the Armaments Bureau is also assisting Wolf Ammunition to provide commercial-use bullets for the Wolf A1.
This would be the first time that Taiwanese arms, or arms components, have been sold commercially, sources said.
Comments will be moderated. Keep comments relevant to the article. Remarks containing abusive and obscene language, personal attacks of any kind or promotion will be removed and the user banned. Final decision will be at the discretion of the Taipei Times.