Fury after police visit protester's father
'UNBELIEVABLE': Netizens were quick to respond to an online post about the visit, with one person likening the police action to a new version of the White Terror era
Controversy over a police visit to the parents of labor rights campaigner Lu Chyi-horng (盧其宏) erupted yesterday, with Premier Lin Chuan (林全) promising to investigate after the incident sparked widespread criticism.
The Workers Struggle Alliance, with which Lu is closely affiliated, late on Friday posted online messages that Lu said he had received from his father telling him that police had stopped by his parents' home earlier in the day because they wanted to "understand" the cause of Lu's "dissatisfaction" with the government.
"Be careful! The Democratic Progressive Party (DPP) might be starting to take actions which will be disadvantageous to those of you who are singing a different tune," the message said. "What can you do if they decide to take forceful actions? For your own safety, do not keep pushing things."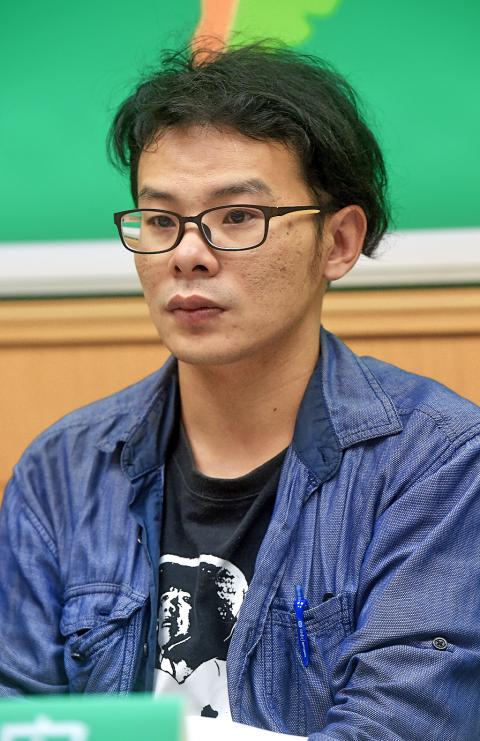 Labor rights campaigner Lu Chyi-horng attends a forum on Taiwan's approach to the Trans-Pacific Partnership in Taipei on July 28 last year.
Photo: Chien Jung-fong, Taipei Times
The police action followed a protest outside President Tsai Ing-wen's (蔡英文) private residence on Dunhua S Road in Taipei on Wednesday, which saw Lu wield a microphone as protesters clashed with police.
Tsai earlier this week directed the DPP's legislative caucus to prioritize passage of controversial amendments to the Labor Standards Act (勞動基準法), which passed out of the legislature's Social Welfare and Environmental Hygiene Committee shortly after Wednesday's protest.
The messages posted by the Workers Struggle Alliance quickly drew an enthusiastic online response, receiving almost 1,500 Facebook reactions and 800 shares by press time last night.
"This is absolutely unbelievable," netizen Yang Chun-yan (楊俊彥) said. "There is no way we can permit a backsliding of our democracy, much less a new version of White Terror!"
The White Terror refers to a period of political oppression which saw thousands of suspected political dissidents disappear over the first few decades of Chinese Nationalist Party (KMT) rule in Taiwan.
"I do not want police to be looking up any of my family members — if they want to look someone up, they should look me up," Lu Chyi-horng said, adding that the incident made him feel that the "state apparatus" was putting its focus on his family.
"If they think I have committed a crime or they want to understand why I am dissatisfied with the government, they could have just arrested me at the protest site," he said.
The revelation drew a swift response from Lin, who posted a response within hours saying that he had directed the National Police Agency to investigate the claims and he had told police officers the government would not tolerate interference with citizens' freedom of expression.
Police in New Taipei City's Sindian District (新店), where Lu's parents' home is, said that police officers had visited their home, but denied any intention to intimidate.
"Our police officer knew that [Lu's father] was the father of a social activist, and as they were chatting happened to ask about where Lu lives," said Hung Hsien-cheng (洪獻政), the chief of Sindian's Jiangling police station, adding that police were conducting a "normal, routine household visit" with no special intention.
He denied that they had received any directive from superiors to conduct the visit.
"Our colleagues' lack of experience probably led to a misunderstanding by the citizen during the questioning process," he said, adding that he personally accompanied the police officer to return to the family's home to apologize.
Lu said the police explanation was "difficult to understand," given that his household registration is no longer his parents' residence.
Comments will be moderated. Keep comments relevant to the article. Remarks containing abusive and obscene language, personal attacks of any kind or promotion will be removed and the user banned. Final decision will be at the discretion of the Taipei Times.