Pulitzer-winning playwright Edward Albee dies at 88
Pulitzer-winning US playwright Edward Albee, author of such masterpieces as Who's Afraid of Virginia Woolf? died on Friday at age 88, his personal assistant said in a statement.
Albee died at his home in Montauk, New York, after a short illness, according to his longtime personal assistant, Jakob Holder.
Considered one of the most important American playwrights of his time, Albee wrote a variety of intense, controversial plays diving into anxieties, disillusionment and death.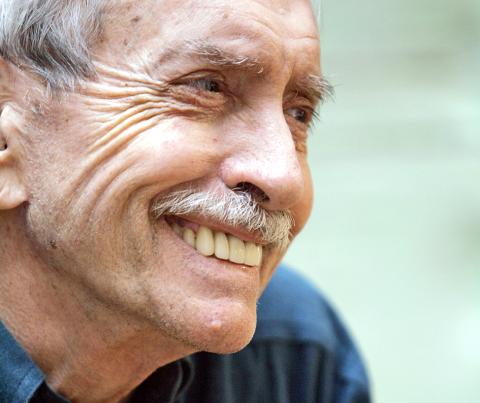 Edward Albee smiles during an interview in New York on March 13, 2008. The three-time Pulitzer Prize-winning playwright died on Friday at his home on Long Island, New York.
Photo: AP
He burst onto the theater scene with The Zoo Story (1958) at age 30. The two-character drama, portraying disaffection and class struggle premiered in Berlin the following year and then moved to off-Broadway in 1960.
Who's Afraid of Virginia Woolf? debuted two years later on Broadway. The shocking, trash-talking, boozy depiction of a tortured academic couple, George and Martha, was eventually a hit.
It was later made into a 1966 black-comedy movie directed by Mike Nichols and starring Richard Burton and Elizabeth Taylor, who won an Oscar as best actress.
Albee won a string of awards for Virginia Woolf, including a Tony for best play in 1963.
The Pulitzer Prize committee recommended it for best play that year, but the Pulitzer board rejected the recommendation.
Throughout an up-and-down commercial career over several decades, Albee won three Pulitzer Prizes for best drama.
The first, in 1967, was for A Delicate Balance. That was made into a 1973 film starring Katharine Hepburn and Paul Scofield.
He also garnered Pulitzers for Seascape in 1975, followed by Three Tall Women in 1994.
In 2005 he was awarded the special Tony Award for Lifetime Achievement.
Born Edward Harvey on March 12, 1928, in what some say was Virginia and others the US capital, Washington, Albee was given up for adoption shortly afterward.
His adoptive parents, Reed and Francis Albee, were wealthy from businesses in vaudeville and motion pictures and changed his name to Edward Franklin Albee III, according to the Edward Albee Society.
Albee had a troubled relationship with his adoptive parents and was expelled from several private preparatory schools and also was expelled from Trinity College in Connecticut.
He moved to New York's Greenwich Village in the 1950s, finding a more sympathetic environment in the avant-garde scene, where he wrote The Zoo Story that marked his breakthrough in theater.
Albee bought a big, white barn — "The Barn" — in Montauk on Long Island and launched the Edward F. Albee Foundation in 1967 to serve as a residence-retreat for writers and visual artists.
He was the recipient of a number of awards, including the National Medal of the Arts and the Kennedy Center Honors in 1966.
"Albee's plays, with their intensity, their grappling with modern themes, and their experiments in form, startled critics and audiences alike while changing the landscape of American drama," The John F. Kennedy Center for the Performing Arts says in its biography of the playwright.
"He was unanimously hailed as the successor to Arthur Miller, Tennessee Williams and Eugene O'Neill," it said.
In 2005 Albee was awarded a Tony Lifetime Achievement Award.
The statement confirming Albee's death included the following note, which the playwright wrote several years ago before undergoing extensive surgery, intending it to be issued when he died: "To all of you who have made my being alive so wonderful, so exciting and so full, my thanks and all my love."
Actress Mia Farrow was one of the first on Twitter to pay tribute to the legendary playwright.
"Edward Albee was one of the great playwrites of our time. RIP Mr. Albee," Farrow tweeted.
Comments will be moderated. Keep comments relevant to the article. Remarks containing abusive and obscene language, personal attacks of any kind or promotion will be removed and the user banned. Final decision will be at the discretion of the Taipei Times.