Investigators find more ATM cash
NEIHU HIDING PLACE: A black plastic bag filled with cash was located near a hiking trail in Sihu Park, but officials said that about NT$10 million of the loot is still missing
The discovery of a black bag containing bundles of cash near a hiking trail in Taipei's Neihu District (內湖) means that most of the NT$83 million (US$2.6 million) stolen from First Commercial Bank's (第一商業銀行) automated teller machines (ATMs) earlier this month has been recovered, officials said yesterday.
Based on information provided by Latvian suspect Andrejs Peregudovs, Criminal Investigation Bureau (CIB) and Taipei police units searched Sihu Park (西湖公園) and were able to find the bag, which was hidden under a pile of trash on a rarely used hiking trail.
However, exhilaration over the discovery, which initially was thought to be the more than NT$22 million missing after the recovery of NT$60.24 million from a Taipei hotel room on Sunday, was tempered last night after the money was counted.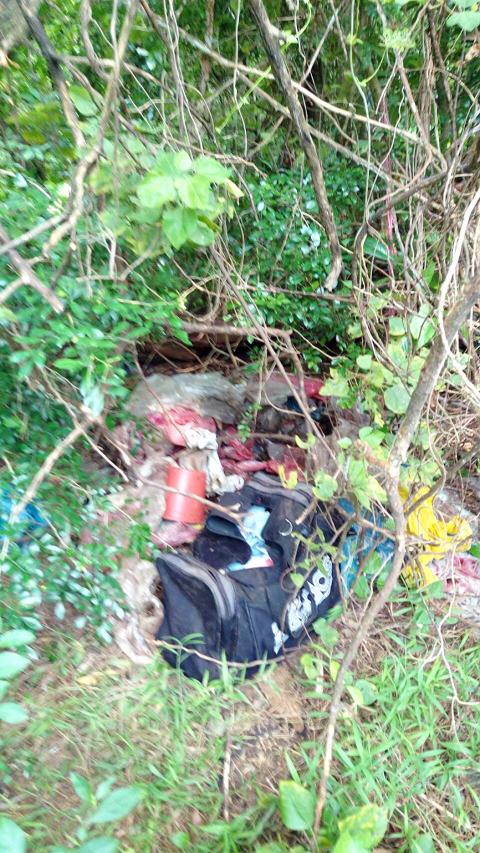 A black bag containing some of the cash stolen from First Commercial Bank's automatic teller machines (ATMs) is pictured yesterday in among items of trash left in Sihu Park in Taipei's Neihu District.
Photo: Chen Yi-yun, Taipei Times, from a police photo
It amounted to NT$12.63 million, leaving NT$10 million unaccounted for.
Investigators said that they would continue their hunt for the missing cash.
As part of their investigation, police and prosecutors took Peregudovs out of the Taipei Detention Center yesterday morning so he could retrace his movements around Taipei.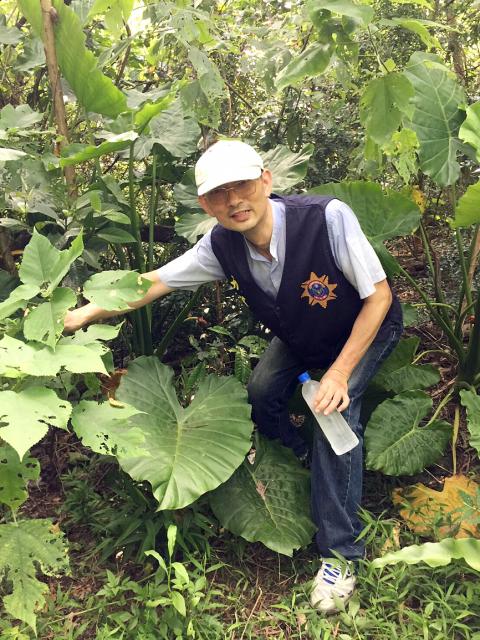 Criminal Investigation Bureau detective Huang Kuo-nang yesterday crouches in a thicket in Sihu Park in Taipei's Neihu District where he found a black bag containing some of the money stolen in the First Commercial Bank heist earlier this month.
Photo: Chen Yi-yun, Taipei Times, from a police photo
They asked him for the whereabouts of a bag he was seen carrying in Neihu in surveillance camera footage.
Peregudovs was taken to Sihu Park, but he said he could not remember the exact location where he had left the bag, because it had been late at night, telling investigators that he had tossed the bag into a grass overgrowth next to a hiking trail.
After pressing him for more details, investigators checked GPS positioning on maps of the park, and conducted an extensive search in the area. The bag was found at about noon.
Peregudovs was taken back to Sihu Park in the afternoon so he could reconstruct his movements for investigators and show how he had disposed of the bag.
When shown the black bag, he nodded in agreement when he was asked to identify it, saying that it contained the rest of the money from the heist, Taipei Xinyi District (信義) Police Precinct chief Wu Ching-tien (吳敬田) said.
Peregudovs had previously told police that the remaining NT$23.03 million had been transferred to Moscow, but officials said they were convinced that it was still in Taiwan because there was no evidence any of the 13 heist suspects who fled the country had large amounts of cash with them when they left.
The three suspects in custody — Peregudovs, Romanian Mihail Colibaba and Moldovan Niklae Penkov — only arrived in Taipei after the heist was committed to handle the stolen money and get it out of the country, officials said.
First Commercial Bank executives said they were pleased with the efficiency of the police and announced that the bank would donate NT$2 million to a group that supports Taipei police.
Additional reporting by CNA
Comments will be moderated. Keep comments relevant to the article. Remarks containing abusive and obscene language, personal attacks of any kind or promotion will be removed and the user banned. Final decision will be at the discretion of the Taipei Times.