Tsai reviews crises at DPP congress
POLITICAL CLIMATE: A motion to abolish provisions on independence was set aside, with a DPP official saying the government does not want to deal with the issue right now
President Tsai Ing-wen (蔡英文), acting in her capacity as Democratic Progressive Party (DPP) chairperson, yesterday presided over the party's national congress, speaking about the troubles the administration has faced in the past two months and urging all members to try to meet the public's expectations.
In the first DPP national congress since the party won control of both the executive and legislative branches of the government, Tsai reminded party delegates of their responsibilities and promises to the public.
"I would like you to take a look at what has happened in Taiwan over the past two months," Tsai said while pointing to two large screens on stage.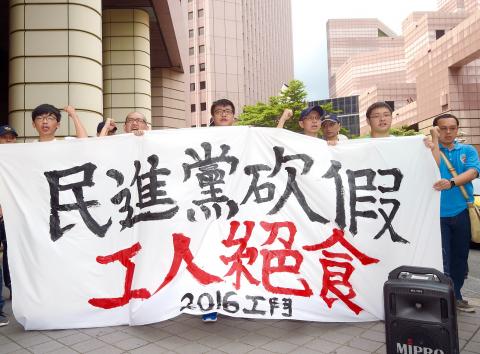 Members of labor groups demonstrate outside the Democratic Progressive Party's national congress in Taipei yesterday, calling on the party to reinstate seven national holidays and implement a true five-day working week.
Photo: Huang Yao-cheng, Taipei Times
"In the first picture, we see Taiwan Taoyuan International Airport when it was flooded. Next, we see China Airlines flight attendants on strike, then the accidental launch of a Hsiung Feng III missile and last, this is Taitung County devastated after a typhoon," she said.
"I would like everyone here to take a good look at these pictures, and this nation. This is Taiwan under a DPP government," Tsai added.
"In the past two months, we have encountered a series of crises, some due to long-term structural factors and some were emergency situations, but for the people, they only care about one thing: how the DPP government responds," Tsai added.
Tsai said that although the DPP was reform-minded when it took power, the challenges that it faces are fierce, and it is at such troubled times that politicians are more likely to feel lost.
She urged all DPP politicians to remember the ideals that motivated them to enter politics, to overcome challenges and to meet the expectations of the public.
Party delegate Hsiao Chieh (蕭杰) proposed a motion to authorize the DPP Central Executive Committee to abolish clauses in the party's charter promoting Taiwan's de jure independence, while party delegate Lee Chi-wei (李啟維) proposed that the DPP government should push to abolish "Republic of China (ROC)" as the nation's official name.
Tsai said that both proposals should be forwarded to the committee for further review, which means that both motions will not likely be mentioned again.
A DPP official who spoke on condition of anonymity said that while the party would respect each delegate's right to propose motions at the national congress, the government and the party would rather not deal with such sensitive issues in the current political climate.
Outside the party's national congress, several groups, including labor and environmental groups, held demonstrations.
The demonstrations mostly remained peaceful, but minor clashes broke out when a pro-independence promoter attempted to voice his opinions in a restricted area.
Comments will be moderated. Keep comments relevant to the article. Remarks containing abusive and obscene language, personal attacks of any kind or promotion will be removed and the user banned. Final decision will be at the discretion of the Taipei Times.