China's military drills not routine: defense ministry
Chinese military exercises earlier this week were aimed at threatening Taiwan ahead of today's presidential inauguration, Ministry of National Defense officials told legislators yesterday, adding that the armed forces are ready to defend the nation.
Democratic Progressive Party Legislator (DPP) Tsai Shih-ying (蔡適應) questioned the ministry's response on Tuesday, when it said that war games conducted by the Chinese People's Liberation Army's (PLA) 31st Group Army based in Fujian Province were "routine exercises, which are conducted annually."
The ministry is "fully aware of it and is constantly monitoring it," it added.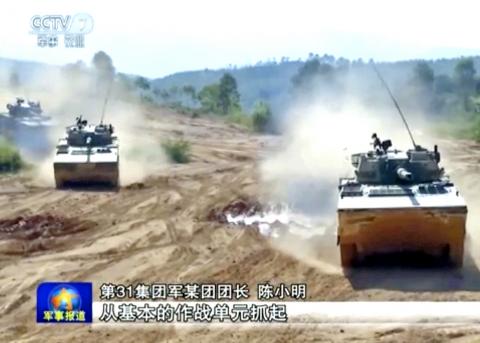 A screen shot from a video released on Monday by China's CCTV and made available via AP Video on Thursday shows ZTD-05A amphibious assault vehicles from the Chinese People's Liberation Army's 31st Group Army conducting a live-fire military drill in Xiamen in southeast China's Fujian Province.
Photo: CCTV via AP Video
Not satisfied with the response, DPP lawmakers questioned ministry officials at yesterday's meeting of the legislature's Foreign Affairs and National Defense Committee.
"I do not believe it is merely a routine exercise by the PLA. They conducted large-scale war games with live-fire weapons and amphibious landings at a southeast coastal area near Taiwan," Tsai said. "China is doing it this week and broadcasting it on state media for the world to see, just before our presidential inauguration ceremony. Is this routine or just a coincidence? I do not think so."
Ministry officials said that the PLA war games were likely aimed at sending a political message to Taiwan and to put pressure on president-elect Tsai Ing-wen (蔡英文) to acknowledge the "one China" principle and the so-called "1992 consensus" in her inaugural address.
Vice Minister of National Defense Hsu Pei-shan (許培山) said China has persisted in its military threats and missile deployment against Taiwan, and has shown no signs of letting up.
Tsai Shih-ying asked the ministry if the nation's troops are ready for the incoming administration and if they are prepared to defend Taiwan in case of war.
He added that there are rumors that some military officials and their units are troubled by the prospect of a female commander-in-chief and do not want to take orders from the new president.
Hsu said there is no such problem.
"The armed forces are loyal to our nation, no matter which political party holds power. We obey the laws of the nation and will serve the new president, who is the highest civilian leader of our country as elected by the people," he said.
DPP legislators asked the ministry to use its internal media outlets to disseminate this message to all military troops pledging allegiance to the president and the nation.
Hsu and other defense officials said that after today's inauguration, all photographs of President Ma Ying-jeou (馬英九) would be taken down in military offices and replaced by photographs of Tsai Ying-wen over the next few days.
Comments will be moderated. Keep comments relevant to the article. Remarks containing abusive and obscene language, personal attacks of any kind or promotion will be removed and the user banned. Final decision will be at the discretion of the Taipei Times.